A $500 Billion Fund Sees 'Glorious Chaos' in Credit Bear Market
(Bloomberg) -- Corporate bonds have fallen so hard they're officially in a bear market, according to AXA Investment Managers. That may not be a bad thing.
A string of corporate warnings and the worst returns in a decade may point to the end of the U.S. economic expansion -- but AXA is eyeing a potential trough and buying opportunity in the ruins.
"The market is trading with more attractive valuations than for most of the post-crisis period," Chris Iggo, chief investment officer for fixed income at AXA Investment, with 452 billion euros ($512 billion) in assets, wrote in a note on Monday.
"For anyone that is relatively optimistic that the U.S. will avoid a really nasty slowdown and that inflation will generally remain well behaved, then the time is getting closer to add to bonds."
After their dismal performance in 2018, Iggo predicts U.S. dollar bonds "should race ahead next year."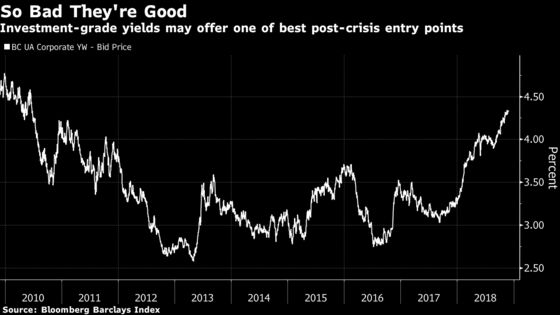 Investors concerned about a turn in the business cycle have been quick to react to storms surrounding borrowers from General Electric Co. in the U.S. to CMC di Ravenna SC in Italy, putting the whole credit market under scrutiny -- and selling pressure.
Issuer-specific risks are starting to look widespread, he said. "Given where we are in the economic cycle and given the increase in funding costs, especially in the U.S., it's safe to say we are in something of a credit bear market."
But don't rule out the asset class just yet, particularly in a backdrop in which it normally does well. That is, an economy running not too hot or cold, where fundamentals may be "deteriorating" but "still positive on the whole," according to Iggo.
It's a glass-half-full take in a punishing year, with money managers in U.S. high-grade bonds down almost 4 percent.
In fact, debt prices have fallen so far that based on the latest data, U.S. investment grade credit spreads would have to widen 20 basis points for a long position to underperform government bonds, according to Iggo's calculations. Yields would have to spike by more than 65 basis points to deliver a negative outright return, he estimates.
Finding the trough is the hard part given the "glorious chaos" gripping markets. With Brexit, trade tensions, Italy's battle with the European Union, a Chinese slowdown, and volatility weighing on global markets, it's likely corporate bonds will cheapen further before prices reach a bottom, he said.
"It could get worse before it gets better but even today the entry point for credit is better than it has been for some time, an important consideration for investors with new money to invest or those with allocations out of equity markets," Iggo concluded.