A $35 Billion Selloff Is Pulling Down Japan's Stock Market
(Bloomberg) -- It's shaping up to be the biggest exodus in more than three decades.
Foreigners have dumped a net 3.9 trillion yen ($34.7 billion) in Japanese equities so far this year, according to data from Japan Exchange Group Inc. that runs through Aug. 17. That's on course to be the largest annual selloff since 1987, the year of Wall Street's famous Black Monday market crash.
Overseas investors are fleeing as the world's second-largest stock market limps through 2018, buffeted by everything from concerns about trade wars to the impact of next year's sales-tax increase. The benchmark Topix index has lost almost 5 percent this year for one of the worst performances among developed markets tracked by Bloomberg.
"I'm not surprised they were selling," said John Vail, chief global strategist at Nikko Asset Management Co., who points out that, as well as those factors, strong corporate earnings have prompted U.S. investors to stick to their home market. "But the extent" of the selloff "surprised me."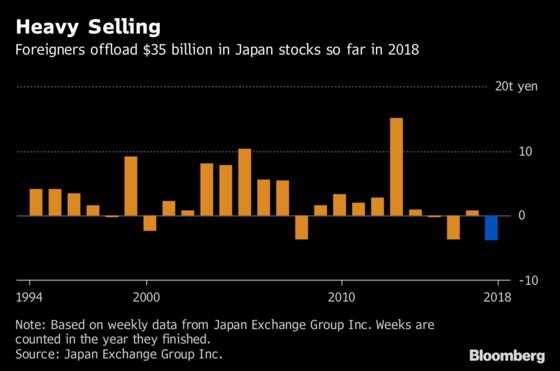 Foreign investors tend to unload Japanese stocks when the yen is gaining, as that weighs on the profit outlooks of the country's exporters. While the currency trades in the 111 per dollar range, not too far from where it started the year, there were bouts of strengthening in between. By March, for example, the yen had risen to 104.56 per dollar amid the global equity rout earlier in the year. And since mid-July, when it weakened beyond 113, it has appreciated again.
And that has had an impact. Overseas investors offloaded a net 447 billion yen over the three weeks through Aug. 17, pushing net selling for this year to a level that's on course to be the second-highest since the bourse started keeping records in 1982, according to data on the value of equities traded on the Tokyo and Nagoya stock exchanges.
Some commentators say that overseas investors are making a mistake -- again.
"Global investors are wrong," said Martin Malone, a strategist at Mint Partners in London and a long-term bull on Japanese equities. "They missed the stellar returns over 2015-2018," he said. "If global investors jump in with $20-$30 billion, then the Nikkei could fly."
For sure, the selling in 2018 has come as the Topix rose to lofty heights. As recently as January, the index traded at its highest in more than a quarter century. But foreign investors didn't capitalize on at least some of the rally since Prime Minister Shinzo Abe returned to power in 2012 in which the Topix more than doubled. While they were strong buyers in 2013 and 2014, they were net sellers over the following two years.
Others note a perceived change in behavior by one of the domestic supporters of the country's market. The Bank of Japan, which has aimed to spend about 6 trillion yen on Japanese stocks in the form of exchange-traded funds, has been slowing its purchases of ETFs this year, and steps such as that, some commentators say, are affecting sentiment.
"While the BOJ has not necessarily admitted it, the market feels that they are altering policy," said Sean Darby, chief global equity strategist at Jefferies Group. And "political risk has climbed."
Kathy Matsui, chief Japan equity strategist at Goldman Sachs Group Inc., points to several other reasons for foreigners' departure, including uncertainty about the global growth outlook, particularly for China and emerging markets, trade tensions, some mixed Japanese economic data, and concerns about the sustainability of companies' profit growth.
But she predicts that overseas investors will return to the market before too long. Matsui cites Abe's likely victory in the September Liberal Democratic Party presidential election as one reason for optimism. Other potential catalysts include the possibility of upward earnings revisions and increased buybacks and dividends, she said.
"We anticipate some foreign interest in Japan to resume by year-end," Matsui said.