A $20 Billion Corner of the Credit World Fights for Survival
(Bloomberg) -- Endless monetary stimulus is creating an existential crisis for a defensive bond strategy on both sides of the Atlantic and threatening a multi-billion dollar wipeout in the world of exchange-traded funds.
As the pandemic spurs deflationary pressure, demand for floating-rate notes that protect against interest-rate hikes has collapsed like never before.
Just this month, Lyxor International Asset Management was forced to liquidate an ETF that tracked the investing style in dollars hedged into sterling thanks to outflows. Overall, total assets in the Lyxor $ Floating Rate Note UCITS product have shrunk from almost $500 million two years ago to $104 million today.
A spokeswoman at Lyxor declined to comment.
All in, floating-rate corporate ETFs around the world have seen their assets diminish by almost half since the start of the year to $20 billion, according to data compiled by Bloomberg. The size of credit ETFs overall has grown by 19% over the same period.
"People don't view the asset class as attractive anymore," said David Schnautz, who's responsible for German-speaking coverage at ETF provider Tabula Investment Management. "If rates are not rising, why bother?"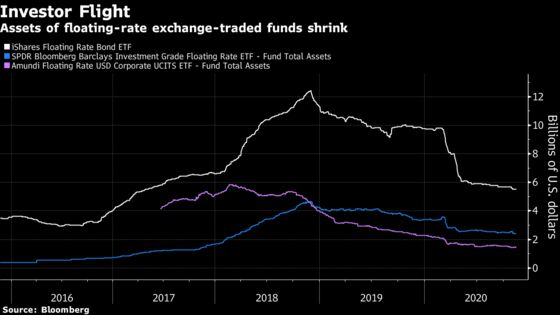 Once a staple of corporate financing since the 1970s, issuers are abandoning floaters to lock in cheap fixed-rated funding. The complex transition away from the London interbank offered rate is also making companies more reluctant to issue floaters since the technical details underpinning the replacement benchmark still need to be confirmed.
Read more: Slumping Floating-Rate Sales Force Rewrite of Bond Index Rules
This lack of supply is creating all manner of investing headaches.
As older notes mature, the size of indexes is falling and making it harder for floater ETFs to track them -- flashing warning signs for funds governed by UCTIS, a popular investment framework.
In July, Bloomberg Barclays indexes relaxed the rules for two corporate FRN trackers to facilitate the entry of more bonds. Invesco Ltd., which runs ETFs linked to those indexes, told investors that without those changes, they may have breached UCITS diversification requirements.
These tweaks are no sure fix to the supply problem. IHS Markit Ltd. this month was forced to ease rules for a second time for an index of euro corporate floaters, after changes in May proved insufficient in increasing the number of notes in the index.
All the same, this is principally a problem for ETF managers. Money-market funds that typically snap up floaters can look outside the primary market for investable assets.
The sector is "shrinking but we're not at the stage where there is not enough on the secondary market," said Benjamin Terreaux, director at Deutsche Bank AG's EMEA syndicate desk.
Still, with central banks firmly in easing mode and the European Central Bank expected to boost stimulus in December, it will be a long while before the investing style stages a comeback.
As ABN Amro Bank NV fixed-income strategist Shanawaz Bhimji puts it, that prospect remains a "very small dot on the horizon."