Where IPOs Are on Fire, This Stock Jumped 2,200% in Three Months
(Bloomberg) -- In the space of a year, Indonesia's stock market has gone from being one of Southeast Asia's best performers to one of its worst, but one thing hasn't changed: initial public offerings are still on fire.
The 35 companies that have listed on the Indonesia Stock Exchange since January have returned an average of 80 percent, and the country is on track to generate the most IPOs on record this year, according to data going back to 1989. This is despite a sell-off in emerging markets that's pulled the Jakarta Composite Index down 6.7 percent this year.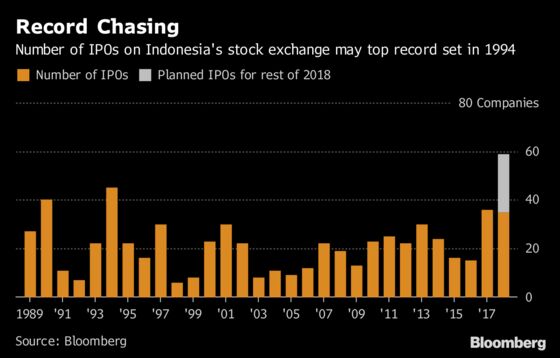 It's a tale of two different kinds of buyers. While foreigners and institutions dump the blue chips, retail investors are fueling an IPO boom in penny stocks that has plenty of room to run because companies are pricing their shares at steep discounts, according to Jemmy Paul, chief executive officer of PT Sucorinvest Asset Management in Jakarta.
"Retail investors are still bullish," Paul said. "It's not going to last forever, but people know they can get 100 percent, 150 percent if they buy at the IPO price."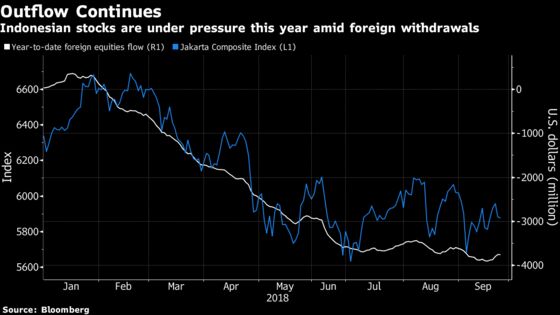 Recent IPOs are eight of the 10 biggest gainers in Indonesia's benchmark index this year -- same as in 2017. The top performer is PT Transcoal Pacific, a shipper now worth 16 trillion rupiah, or about $1 billion, which has jumped almost 2,200 percent since listing less than three months ago. The shares were offered at 138 rupiah, less than 1 cent.
Indonesia has had more IPOs this year than any other country in Southeast Asia, with Malaysia a distant second. And some 24 other companies are planning to list their shares before the end of December, according to I Gede Nyoman Yetna, a director at the stock exchange.
Here are other top IPO performers this year:
PT Prima Cakrawala Abadi, a seafood processor worth 3.5 trillion rupiah, or about $230 million, is up almost 1,900 percent since listing at the end of last year.
Real estate developer PT Dafam Property Indonesia has soared more than 950 percent in five months
PT Andira Agro, an operator of palm-oil plantations that started trading on Aug. 16, has climbed more than 720 percent
PT Indah Prakasa Sentosa, another logistics company, has risen 639 percent since April
PT Pratama Abadi Nusa Industri, a maker of glue and oil containers, has rallied more than 390 percent since listing shares earlier in September
PT Borneo Olah Sarana Sukses, a coal explorer that trades under the ticker BOSS, has advanced 332 percent in seven months
PT Steadfast Marine, a shipbuilder worth 458 billion rupiah, is up more than 300 percent since June