$134 Billion Investor Has Fix for Bond Market's Biggest Risk
(Bloomberg) -- DWS Group's Christian Hille has found a way to protect his $134 billion portfolio from the kind of bond market swings that have hurt some of his biggest peers. He's adding duration risk in the U.S., while reducing it in Europe.
Hille, who runs global multi-asset portfolios at the Frankfurt-based fund, says the measure of rate risk poses one of the biggest dangers to investors in the current market. If you go long you get stung by rising interest rates, but if you go short you get hurt when flights of safety, such as the one spurred by Italian political risk last month, trigger a short-term bond rally.
"Duration is a challenging topic," Hille said. "We see it as a strategic short, but you have to trade tactically because it still diversifies in a stronger risk-off scenario."
Treasury bears have experienced the quandary first-hand as Italy's political crisis sent investors scurrying back to the safety of U.S. government bonds, reversing a surge in benchmark yields above 3 percent at the beginning of May.
Global bond funds with negative-duration positions run by Janus Henderson's Bill Gross and Franklin Templeton's Michael Hasenstab incurred big paper losses last month.
Underpinning Hille's position is a view that U.S. yields probably won't go much higher from here because the market is already pricing in the four interest rate hikes planned by the Fed for this year. Bund yields on the other hand are bound to rise because the spread with Treasuries is at a multi-year high, a phenomenon which he says can't be sustained indefinitely.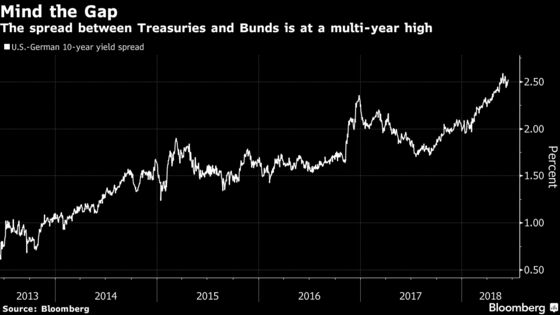 Duration is a measure of how sensitive bond prices are to rising interest rates. If bond yields move steadily upwards, a portfolio with negative duration stands to make a big profit. But on a day when longer-dated yields fall, the investor will make a loss.
The bet may continue to disappoint with signs European growth is faltering, keeping bund yields down and pushing rate increases into the distance of 2019, while the Federal Reserve upgrades its dot-plot forecast to four total rate increases in 2018. The spread widened on Thursday after European Central Bank President Mario Draghi pledged to keep interest rates at current record lows at least through the summer of 2019.
Like Gross, Hille is betting that policy normalization will bring German and U.S. yields closer together. But his positioning -- with an average duration of less than one year -- is less extreme.
The duration dilemma calls for "much more active management" as central banks normalize monetary policy, he said.
"In the U.S. we like duration more, but because the curve is flat you don't even need to go that long," Hille said. "In Europe we are much shorter duration. We think there will be more convergence."