A $13 Billion Credit Manager Is Planning Several New Funds
(Bloomberg) -- Capital Four is planning multiple credit funds to cater to clients eager to make bets on riskier debt products.
Sandro Naef, the co-founder and CEO of the $13 billion Copenhagen-based money manager, says there's "strong demand from my clients for structured credit or for private debt."
Capital Four recently went on a hiring spree to bring in bankers from JPMorgan Chase & Co. and BNP Paribas SA, among others, to make sure it has the right skills to design the kinds of investment products clients want.
Naef says he's now in the process of "setting up an opportunistic structured credit fund" that will invest in the most junior, and potentially most lucrative, layer of collateralized loan obligations -- the equity tranche. That decision comes after the market for such products "sold off and is trading at around 30, 40 cents on the dollar," he said.
The fund will mainly focus on investing in the mezzanine and equity tranches of CLOs, as well as warehousing and senior tranches of CLOs, according to relative value. It targets a net return of 10-12%, in euros.
Given the level of demand, Naef says he's planning more investment vehicles. "Structured credit is something where we are setting up funds now," he said.
Capital Four isn't the only firm bracing for a spike in demand for debt financing. On Wednesday, Catella AB said it hired a new head for its debt advisory and restructuring unit. "We are already working with a number of interesting mandates," Catella said.
For its private debt products, Capital Four plans to focus on Scandinavia, which Naef says is seen by investors "as an area that will be less severely impacted" by the fallout from Covid-19. "We get a lot of interest from people who think our part of the world is looking very good," he said. "People think these are strong economies that will do better than the rest of Europe."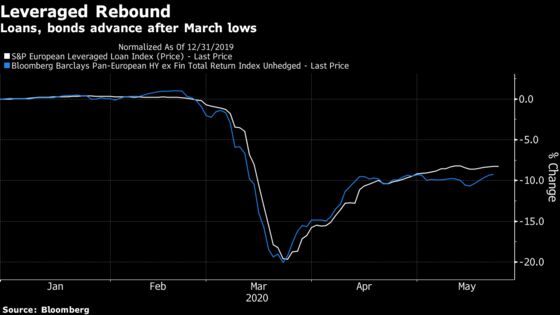 A little over two months ago, credit markets were in free fall, with a number of Nordic funds forced to shut their doors in March to halt a client exodus. The region's biggest economy, Sweden, was particularly hard hit by the shock.
Since then, activity in Europe's leveraged finance market has begun to pick up thanks in part to a wave of central bank stimulus and as borrowers push through financing plans ahead of earnings season and the traditional August break.
"Markets were down 20% and now 10%. So of course it feels a lot better than in March," Naef said. He says "it's clear" that policy makers "are doing the right thing" to fight the crisis, which gives investors a "good reason to be more comfortable."
But the rebound since March may still leave room for gains, according to Naef. "The question is: Is 10% enough compensation for the fundamental risk in the market?"
The riskier corners of debt markets have tended to perform better in each new crisis. But investors need to be selective.
"One of the lessons is that it's not always the impact but also the market you're invested in and the maturity and diversification of that market," Naef said. "In the last 20 years, leveraged finance has developed significantly. It's a much more broad universe."
And after the recent wave of volatility, he says it's now "easier to find attractive companies."