Hedge Fund Glenview Used 'Medicare-for-All' Rout to Build Up Health Stakes
(Bloomberg) -- U.S. health-care investor Glenview Capital Management LLC boosted its positions in health insurers and hospitals as the sectors came under pressure from political headlines in the first few months of the year.
Glenview Capital added to its holdings of Cigna Corp, Anthem Inc. and Humana Inc., while taking new stakes in Centene Corp. and Wellcare Health Plans Inc., which announced plans to merge at the end of March. Among hospitals, the New York-based hedge fund bought more shares of Tenet Healthcare Corp. and Universal Health Services Inc., its latest 13-F filings show. Glenview remains Tenet's largest shareholder.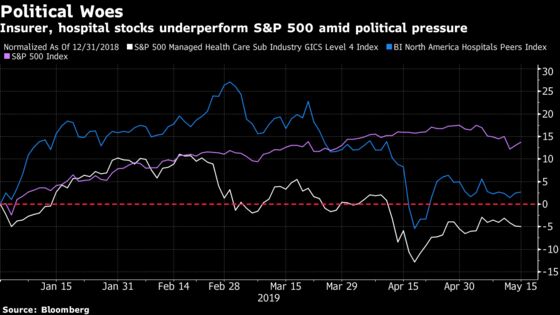 Managed care and hospital shares have been roiled by Washington policy debates centered on offering "Medicare-for-All". Stocks began to slide in late February and fell to their lowest level since late 2017 at one point in April. While they've recovered over the past month, the S&P 500 Managed Care Index remains down for the year, while a Bloomberg Intelligence hospitals benchmark is up 2.6%, significantly underperforming the broader market.
See: Glenview Adds Univar, Exits CVS, Cuts Iqvia: 13F
In a Bloomberg interview last week, Glenview founder Larry Robbins said investors were wrong to be fearful of Democrats' single-payer proposals as they have little chance of becoming reality. He also repeated his bullish call on managed care and hospitals while cautioning against pharmaceutical stocks that may come under pressure due to drug pricing risks.
The hedge fund managed about $7.7 billion as of March 1, down from $10 billion in June of last year.