Yuan's Calm Enhances Optimism in Emerging Markets
(Bloomberg) -- If the yuan is the weather vane for the current mood, then bargain hunters might suddenly sense an opportunity. The Chinese currency's six-day decline screeched to a halt today after Monday's nerve-jangling 1 percent slide, as the central bank set its fixing higher than traders expected. It strengthened offshore by as much as 0.4% before drifting back a bit later.
Meantime, the so-called emerging-market proxy-trades such as the rand and Mexican peso were comfortably in the green. Stocks, where much of the risk-off pain has manifested itself recently, were down but not out, with the MSCI Index retreating 0.4% compared with the S&P 500's 2.4% slump yesterday. With S&P futures and the developed markets of Europe rising, the market may be finding its footing, with traders apparently taking their cue from President Donald Trump's pledge to meet his Chinese counterpart, Xi Jinping, at next month's G-20 summit.
While the resurgence of trade tensions erased this year's gains for emerging-market carry traders, it has also left Asian currencies looking quite juicy. The implied carry in the region's exchange rates including the yuan jumped to a seven-month high on Monday.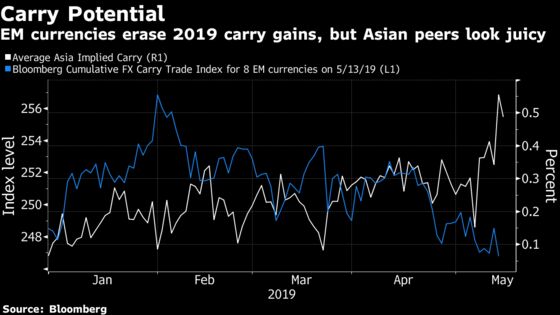 Turkey's lira gained after Bloomberg News reported that the government is considering a request to delay the planned purchase of a Russian missile system. Remember the currency rallied as much as 3.8% on Friday after Bild said Turkey had canceled the order altogether, only for the government to deny the claim later. As it was, Russia dismissed today's report too. Bloomberg's Istanbul-based emerging-markets editor Constantine Courcoulas says traders may want to see more than a mere delay if the lira is to gain traction from here, given they have a generous array of other reasons to bet against the currency right now.
The baht reached its strongest level since the end of February, evidently drawing further support from speculation the U.S. will expand the number of countries it scrutinizes for currency manipulation to include Thailand. But there are several other factors underpinning a performance that's making the baht one of the few emerging-market winners this month. According to Roong Sanguanruang, a market analyst at Bank of Ayudhya in Bangkok, limited room for central bank interest-rate cuts and progress toward choosing a prime minister after the disputed March election are providing additional tailwinds. Throw in a possible boost from MSCI Inc.'s re-balancing of its emerging market index and the stars are aligning once again for the baht in a month when it has historically tended to weaken.
If the Saudi stock-market rally is anything to go by, Argentina is set for a rebound today following MSCI Inc.'s announcement yesterday on which companies from each country will be included in its equity benchmarks from May 28. Saudi Arabia's Tadawul Index snapped an eight-day losing streak that had left it at its lowest since January. For what it's worth, Argentina's Merval lost 3.3% yesterday, sliding back through its 50-day moving average. The question is whether it will be enough to counter all the other nervousness surrounding Argentina at the moment.