AQR Sees Reprieve Coming for Trend-Following Funds
(Bloomberg) -- A pioneer of systematic trading sees large price swings returning to markets after a period of calm, paving the way for a return to profits for trend-following investors.
"The unusual lack of large moves across global markets during the current decade in the wake of the global financial crisis is the main driver of recent poor trend-following returns," wrote AQR Capital Management LLC in a note Tuesday. "While we cannot for certain say when markets will exhibit sustained large moves, we expect that they eventually will, and that trend-following strategies will be able to profit from them accordingly."
Investors following trending markets, such as momentum funds which buy outperforming stocks and sell laggards, have had a tough couple of years, even as risk assets have rallied. The Eurekahedge Trend Following Index fell by 7.1 percent in 2018, its worst performance on record and a far cry from the years of double-digit returns seen prior to the global financial crisis. It is up just 2.9 percent this year, lagging the 6.6 percent rise in the broader HFRX Equity Hedge Index.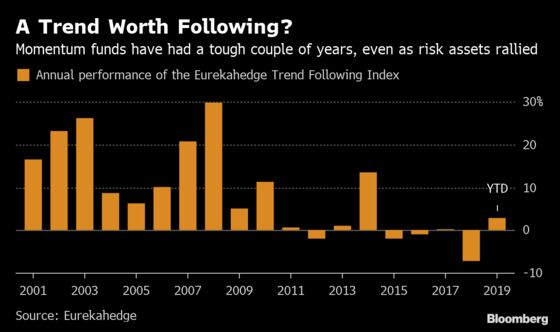 A dearth of broad market moves in the past 10 years has made for unusually poor performance for trend-following strategies, according to AQR, citing data going as far back as the 19th century.
Price swings are exceptionally depressed across asset classes this year, after a dovish pivot from major central banks, signs that China's stimulus is working and an easing of global financial conditions. The JPMorgan Global FX Volatility Index has fallen to levels not seen since 2014, while the Cboe Volatility Index is close to its lowest since October.
Yet, this does not mean the trend-following approach is no longer valid, AQR argued.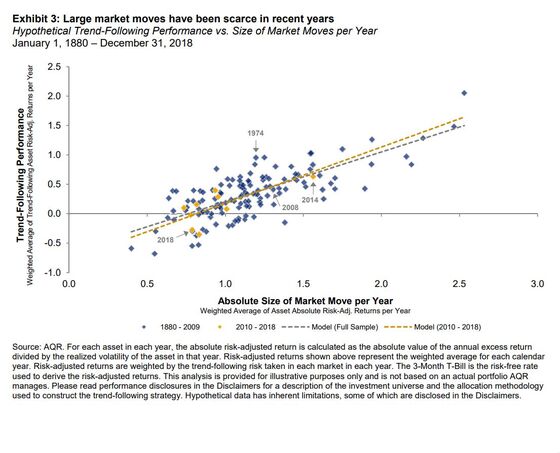 A year such as 2014, when the strategies were profitable as large market moves returned, suggests trend-following can still work, according to the Connecticut-based investment management firm founded by Cliff Asness, which made its name through systematic trading methods.
"There is little evidence to suggest this is a permanent structural change for markets, providing hope that trend-following strategies should be able to deliver performance more in line with long-term expectations going forward," the note said.