A Giant in China's Equity Market Is Starting to Look Expensive
(Bloomberg) -- Equity traders rarely pay this much for the world's most profitable distiller.
Up 60 percent this year alone, China's Kweichow Moutai Co. is reaching all kinds of milestones. It's become the second-largest company listed on the mainland, and on track to be the first priced at 1,000 yuan apiece. It commands a premium over all of the country's major consumer staples, and has just leapfrogged global giants like Anheuser-Busch InBev SA, Unilever and HSBC Holdings Plc in market value for first time.
But trading at almost 30 times projected earnings, Moutai is nearing the multiple that has often capped gains in the past decade. Whether China's middle class will continue to splurge on liquor is a key question for analysts after the stellar start to the year. The concern is that investors have set too high a bar for 2019 because Moutai often beats its own guidance.
"Valuation is a concern in the market now," said Dai Ming, Shanghai-based fund manager at Hengsheng Asset Management Co. "All the good news from its first-quarter earnings have been priced in."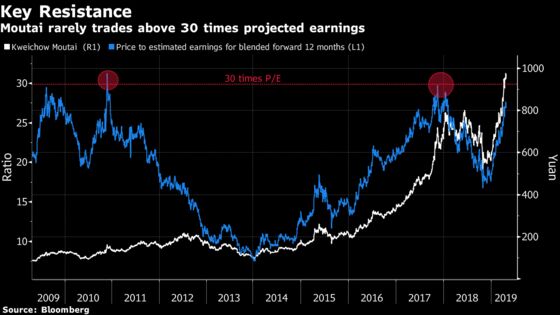 Moutai fell 0.8 percent Friday, one day after sliding 1.8 percent even as a 24 percent surge in quarterly revenue surpassed its own estimates. The shares were at a record as recently as Tuesday, supported by resilient sales that have defied China's economic slowdown. Moutai's decision to sell more of its products directly to consumers -- cutting out the middleman -- has also helped lift the stock.
The distiller's valuation peaked at 28 times projected earnings this week. That compares with the average multiple of around 12 for members of the CSI 300 Index. Its smaller rival Wuliangye Yibin Co., whose shares have almost doubled this year, is the second priciest stock on the consumer staples sub-index, trading at about 23 times profit.
The last time Moutai got this close to the 30-times-earnings multiple was in early 2018, before it got caught up in China's bear market and a consumer slowdown that cost shareholders more than $60 billion.
Moutai is still one of the most-loved stocks in China, with all but one of 40 analysts tracked by Bloomberg recommending buying the shares. Moutai's rally has also underpinned the broader market, contributing the most to the Shanghai Composite Index this year. Bank of America Corp. joined eight other brokerages in predicting the shares will breach 1,000 yuan within 12 months.
"Moutai enjoys the strongest branding power, highest margins, best return-on-capital and strongest free cash flow in China's baijiu industry, warranting a valuation premium over peers," Citigroup Inc. analysts Xiaopo Wei and Richard Wenjia Lin wrote in a note following this week's earnings.
Foreign investors are starting to retreat. They sold a net 808 million yuan of the shares in the three days through Thursday via exchange links with Hong Kong, accounting for about 7 percent of their total selling for the entire A-share market, data compiled by Bloomberg show. For Hengsheng Asset's Dai, the valuation looks rich.
"Recent selling from foreign investors is also making onshore investors cautious," he said. "A price-to-earnings ratio of about 30 times has precluded declines in the past."