Saudi Arabia and Allies Can Replace Lost Iranian Oil: Rystad
(Bloomberg) -- Saudi Arabia and several of its allies have enough spare capacity to replace any loss in crude supply prompted by tighter U.S. sanctions on Iran, and most of it would be of similar quality, according to consultant Rystad Energy.
Saudi Arabia -- OPEC's largest producer -- the United Arab Emirates, Iraq and Russia have cut output by a combined 1.3 million barrels a day since October, and that supply could return to the market within three to four months, Rystad Head of Oil Market Research Bjornar Tonhaugen said in a report. Iran currently exports about 1.1 million barrels a day, he wrote.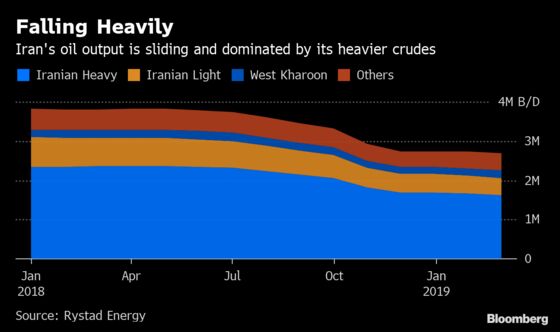 The Trump administration said on Monday that it won't renew the waivers that allowed some of Iran's oil customers to continue purchasing its crude after the U.S. reimposed sanctions last year. The news comes as output cuts by the Organization of Petroleum Exporting Countries and its allies have already reduced the world's supply of relatively heavy, sulfurous oil.
Rystad lowered its 2019 forecast for Iranian crude production to 2.44 million barrels a day from 2.62 million previously. It also curbed its estimate of Iran's crude exports to 600,000 barrels a day from May, versus 900,000 previously. About 500,000 daily barrels will go to China, and the remainder to Turkey, the consultant said.
Most replacement oil for the lost Iranian barrels would be of similar quality to Iranian Light and Iranian Heavy crude, according to Rystad.
"We believe that Saudi Arabia has ample capacity of Arab Light especially, which is a grade of similar quality to Iranian crudes, due to the current production cuts," Tonhaugen said. "The same goes for Russian Urals, Iraq's Basrah Light, while U.A.E.'s main export grades are somewhat lighter and sweeter than Iran's."
Saudi Arabia said it will coordinate with other crude producers to ensure adequate supplies are available to the market, though the government in Riyadh was said to be planning a cautious response. Late last year, when the U.S. previously threatened to reduce Iran's oil exports to zero, the kingdom increased production.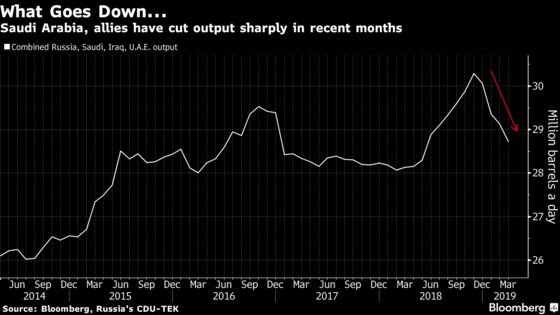 Any additional barrels from Saudi Arabia and its allies "should limit the positive impact on crude prices" from lower Iranian supply, Rystad said. However, it noted that a more hawkish U.S. foreign policy could also have implications for Venezuela, another OPEC member that has been the target of U.S. sanctions.