Man Group Shares Slump as Earnings Declined More Than Expected
(Bloomberg) -- Shares of Man Group Plc dropped by the most in almost three months as earnings fell more than analysts expected last year, crimping fee income. The world's largest publicly traded hedge fund manager said it wasn't immune to the withdrawals that have battered rivals.
"2018 was a more difficult year for the asset management industry, characterized by periods of higher volatility which impacted performance across asset classes and investment styles," Chief Executive Officer Luke Ellis said in the statement Friday. "As clients respond to changes in the market and adjust their portfolios we have also seen a pick-up in redemptions."
The firm pared its target for net inflows to as much as 6 percent from an earlier projection of 10 percent, showing how difficult it is for managers to raise money in the current environment.
Profit from performance fees plunged 81 percent as the firm, which manages both discretionary and computer-driven hedge funds, posted losses or lower returns within some of its biggest funds.
The company posted $10.8 billion in inflows as some of its funds outperformed rivals, even in instances where the returns had dimmed from a year earlier. Investors overall pulled out $37.2 billion from hedge funds in 2018, with $34.2 billion being withdrawn just in the fourth quarter, according to eVestment data.
Assets under management stayed almost flat at $108.5 billion at the end of 2018 as the firm attracted new money from investors despite the weaker returns and foreign-exchange headwinds.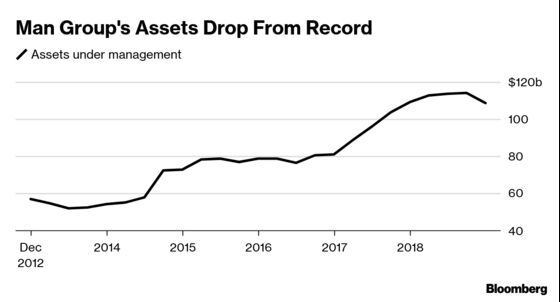 Shares of Man Group dropped 5.1 percent, the most since Dec. 12, to 131.05 pence as of 8:24 a.m. in London. That extended the rout in the stock over the past year to about 20 percent, paring its market value to 2.03 billion pounds ($2.69 billion).
Man Group Says 2018 Was Difficult for Industry Due to Volatility
Fees have steadily declined over the past decade for the industry globally as investors rebuffed the traditional model of charging a 2 percent management fee and taking a 20 percent performance fee. That's forced the money managers to shrink the rates to about 1.43 percent and 16.93 percent on average last year, data from Hedge Fund Research show.
Hedge funds were whipsawed by sharp reversals in asset prices last year, losing 4.1 percent on average last year, according to Eurekahedge.