China Animation Appetite Draws Pioneers Back to Bilibili Board
(Bloomberg) -- Catering to the appetite of China's Generation Z for videos, comics and games has proved to be a winning formula for animation streaming platform Bilibili Inc. So much so that it's enticed two of its original venture capitalists back to the board as it seeks to expand.
Wenji Jin, whose company Legend Capital backed Bilibili before its IPO, left the board shortly after its listing last year. Feng Li, who led an investment in Bilibili as a partner at IDG-Accel before starting his own fund FreeS, served on the board from 2014 to 2016. Both are returning as independent members, the company said in a statement Friday.
Bilibili's U.S.-listed shares have risen about 60 percent since the company, which counts both Tencent Holdings Ltd. and Alibaba Group Holdings among its backers, listed on the Nasdaq last March. Meanwhile Bilibili's 41-year-old CEO Chen Rui's 24.2 percent stake has become worth $1 billion, according to Bloomberg Billionaires Index.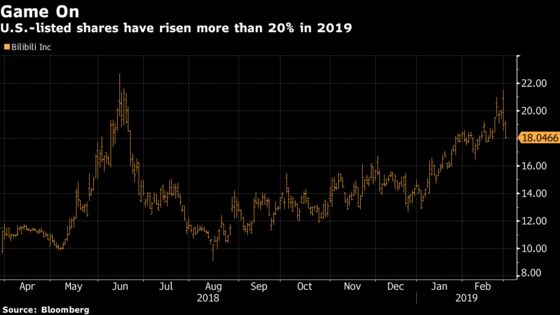 The streaming platform has also been attracting big name investors. In February, Alibaba's Taobao disclosed a 10.8 percent Class Z share stake while in October, Tencent boosted its stake to 12.3 percent with another $318 million investment.