Pressure Grows on Bouteflika as Prominent Algerians Join Protest
(Bloomberg) -- Thousands of protesters marched Friday in the Algerian capital to demand President Abdelaziz Bouteflika step aside from contesting next month's election, in some of the biggest demonstrations yet against the veteran ruler.
Police deployed in force throughout Algiers but watched on as crowds left the central May 1 square chanting "the people do not want Bouteflika." The government, which appears to have been unnerved by unprecedented rallies over the past week, has defended Algerians' right to demonstrate but raised the specter of unrest that preceded Syria's war as it appealed for calm.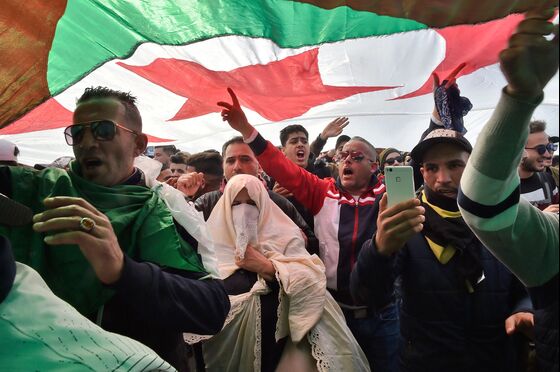 As a large march wound its way down the streets of the capital, women threw water bottles from balconies to the protesters in a show of support. Others unfurled Algerian flags. The rally moved in the direction of the presidential palace, where police fired tear gas as some protesters attempted to breach police barriers.
The largely peaceful protests started with anonymous calls over social media but have since been backed by prominent intellectuals and other public figures. On Friday, former Prime Minister Ali Benflis appeared in central Algiers to speak out in support of the demonstrators' demands. "We want a democratic state," he said in an interview published by TSA Algerie. Djamila Bouhired, a respected fighter in Algeria's independence war, also marched in the capital.
"Hey Ouyahia: Algeria isn't Syria!" protesters chanted, referring to remarks by Prime Minister Ahmed Ouyahia warning that Syria's devastating civil war had started with similar protests.
Bouteflika, who will be 82 on Saturday, has been in power since 1999. The demonstrations for change at the top -- which have had no obvious leader -- come as the OPEC member's economy is failing to deliver the opportunities its overwhelmingly young population demands. Algeria is a critical partner of European governments in stemming the movement of refugees from sub-Saharan African nations, and tackling the threat posed by Islamist militants.
On Thursday, police detained a critic who said he'd challenge Bouteflika in the election, and arrested dozens of journalists at a rally, setting them free hours later.
The protesters want the president, once hailed for bringing the country together after a decade long civil war but incapacitated by a stroke in 2013, to end his rule at four terms. But leaders within "le pouvoir," a loosely defined ruling coalition including the military, appear unable to agree on a replacement.
Algerians are being urged by officials not to risk triggering instability in the country, which watched as Arab Spring protests eight years ago toppled autocratic rulers. "People say the protesters met police with flowers, thank God," premier Ouyahia told parliament. "Let's remind ourselves, brothers, that Syria also started with flowers."
Such rhetoric may appeal to older Algerians who recall their own country's civil war. The conflict erupted after the army stepped and canceled a 1991 election that Islamists were set to win, and that went on to kill as many as 200,000 people.
Yet younger voters are looking to the future. Algeria relied on generous subsidies -- paid for by oil revenues -- to keep the peace in the past but that model is unsustainable in the longer term under cheaper oil. Youth unemployment is high and allegations of corruption rife.