There's No Hope in Sight for Philippine Retailers 
(Bloomberg) -- The end of the year and election periods are usually boons for Philippine toy sellers, booze makers and retailers. But this time around, things may be different.
Some of the nation's biggest money managers are preparing for consumer companies to experience a dire stretch of time and are avoiding their stocks. Fund overseers at Metropolitan Bank & Trust Co. and Sun Life of Canada Philippines Inc. are warning that high inflation is hitting households just as corporate margins remain under pressure. Both firms are underweight the sector's shares as they expect rising oil prices and a weakening peso to hamper earnings growth.
"Election and Christmas spending usually have a positive impact on consumer stocks, but this might not be the case now," said Michael Enriquez, who helps manage about $5.55 billion as chief investment officer at Sun Life Philippines. "Consumers hurting from inflation are showing signs of hesitation on spending more, while companies couldn't pass on higher cost for that could further hurt demand."
Higher taxes, climbing oil prices and a weakening currency have hurt growth in spending, and a central-bank survey earlier this month showed Philippine consumers have turned pessimistic. That's hit the stock market, with department store SM Investments Corp., the biggest member of the Philippine Stock Exchange Index, and LT Group Inc., the owner of the nation's largest tobacco company, becoming some of the biggest decliners in September.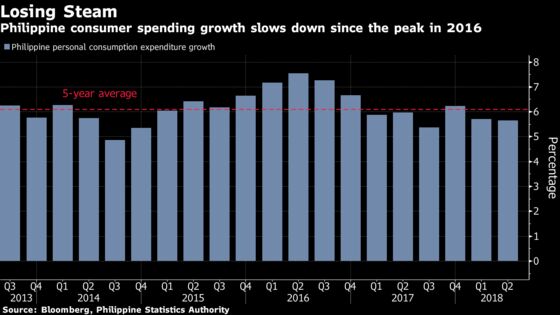 All but three of the 12 consumer-related shares in the benchmark gauge have fallen this year, with five exceeding the measure's 14 percent slide. GT Capital Holdings Inc., owner of the country's largest car manufacturer, and JG Summit Holdings Inc., which controls the biggest maker of snacks and iced tea, are down more than 25 percent.
That's led to a drop in valuations, and some say it's time to look into opportunities. Philippine consumer stocks trade at almost 18 times estimated earnings for the next year on average, down from 22 times at the market peak in January, according to data available compiled by Bloomberg.
"I think it's safe to assume that many consumer names are at bottom or near bottom given that inflation is peaking and will soon ease while spending for the holidays and election campaign will provide a continuous flow of catalysts," says Miguel Ong, an analyst at AP Securities Inc. "It's good to start picking while the sector is still out of favor."
Ong favors retailers such as Puregold Price Club Inc. and Robinsons Retail Holdings Inc. That's because they can pass on higher costs quicker than restaurant operators and manufacturers such as Jollibee Foods Corp. and Universal Robina Corp., which have to absorb them for a longer time before they can raise prices.
John Padilla, who helps manage about $8.13 billion as head of equities at Metropolitan Bank & Trust, sees it otherwise. While the stock losses have pushed down valuations and Universal Robina looks attractive, there are too many headwinds ahead to buy consumer shares now.
"There is no doubt valuation haves come down -- but where is the upside?" said Padilla, who has been underweight consumer stocks for almost a year. "Until the threat of higher inflation tapers off, one can't say the worst is already over for spending and margins. I see no rush to buy now."