Goldman Finds Index Flows Cause Imbalances Investors Can Exploit
(Bloomberg) -- What if indexing actually does distort stock prices?
To Goldman Sachs Group Inc., there's a strategy for that. It turns out active investors can beat the market by buying stocks with the biggest presence in exchange-traded funds and other vehicles that track a benchmark, according to a report by Goldman strategists led by Arjun Menon and David Kostin.
The plan exploits imbalances in the passive world where, contrary to conventional thinking, investors' money isn't distributed across every company in proportion to size. And as cash rolls in, shares that are favored get a bigger boost than those that aren't.
"Stocks that have a larger weight in an aggregate passive fund portfolio than a benchmark index should outperform when net flows into passive funds are positive," the strategists wrote.
According to Goldman's calculations, ETFs have attracted $165 billion of fresh money over the past 12 months, and a basket of 50 stocks that the strategists identified as having the highest overweight positions in passive funds relative to the market has returned 38 percent in that time. That's more than double the 17 percent gain in the Russell 3000 Index.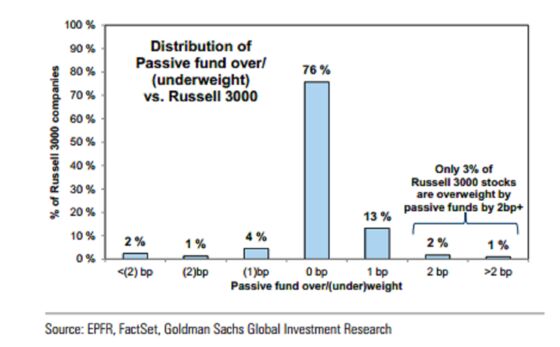 Goldman is joining a growing collection of investors looking for an edge by studying ETF behavior at a time when indexes outnumber stocks and passive vehicles control about 15 percent of the U.S. equity market. At the center of its study is an imaginary portfolio comprising all the stocks in passive funds. Researchers measured how much of the whole each stock made up -- its passive weighting -- and then looked to see if that was more or less than its weighting in the Russell 3000 Index.
Most stocks had fairly similar representation in both. But about 6 percent had passive weightings that deviated by at least 2 basis points from their index weightings. And these are the stocks that investors can capitalize on.
"Active managers could improve returns by increasing exposure to strategies that are the biggest beneficiaries of passive inflows," they wrote. "Active funds can use passive inflows to their advantage."
According to Goldman's model, the most overweight passive stocks include:
Berkshire Hathaway
Dell Technologies
Facebook
Visa
Simon Property
The five most underweight stocks are:
Apple
Amazon
Microsoft
JPMorgan
Bank of America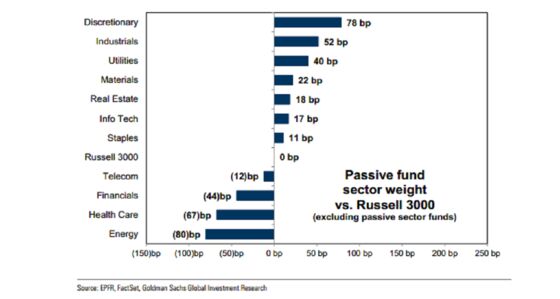 Goldman also studied passive exposure to sectors and quantitative factors. Below are some key findings:
Excluding those focused on sectors, passive funds prefer consumer discretionary and industrial stocks the most; energy and health-care are most shunned
Among other factors, passive funds favor small-caps and high turnover stocks over high-dividend stocks