NYC Police and Fire Invest $134 Million in Exotic Quant Fund
(Bloomberg) -- Fighting fires. Upholding the law. Investing in a quant fund loaded up with some of the most exotic and volatile derivatives trades on Wall Street.
It's all in a day's work for New York's finest.
The pension funds for New York City's police and fire departments last month allocated a combined $134 million to London-based Florin Court Capital. At first blush, it's an odd pairing: the quant shop follows trends in hard-to-trade assets from European power to cryptocurrencies.
This would be an exotic trading strategy at the best of times for even advanced investors like the storied pension institutions of New York City. Right now, it stands out because frenzied markets have battered the average returns posted by trend-following quants, also known as commodity trading advisers.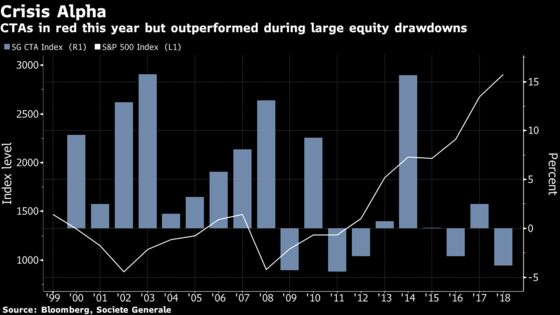 Yet the appeal of momentum-trading strategies -- most of which trade liquid instruments like bond and stock futures -- endures because investors are on the hunt for what some in the industry call "crisis alpha," or funds that will outperform when markets crash. It's reinvigorated appetite for CTAs, which returned a profit each time equities fell at least 15 percent between 1985 and 2016, according to a study by Man Group.
"Given where equity markets are and where interest rates seem to be headed, they're looking for extra diversification," Doug Greenig, the founder of Florin Court and a former chief risk officer of Man's AHL unit, said of the pension allocation. "The exotic, alternative markets angle was critically important to them."
At a very basic level, CTAs are programmed to buy assets with upward momentum and short those in free fall. The group is among the worst performing hedge fund types this year, thanks to trendless markets that have been experiencing short-lived spikes. But recent turmoil -- particularly in emerging markets -- has helped reanimate their money-making potential.
Greenig is the first to admit it's been a tough year for trend-following, though Florin has benefited from operating in the less liquid corners of the market.
The firm returned 0.9 percent this year through August, compared with losses of 2.9 percent for standard CTAs over the same period, as measured by a Societe Generale-compiled basket of the largest managers. The overall universe fell 0.6 percent, according to Hedge Fund Research.
Less liquid assets tend to exhibit more pronounced and uncorrelated trends, creating opportunities for quants to ride the market, Greenig said.
"French power is just not correlated with Colombian interest rates or European credit," he said. "Some of the markets have a lot of juice in them and make sustained, dramatic moves."
As for the New York City Police Pension Fund and the New York City Fire Pension Fund, which combined oversee about $50 billion, in truth they are no strangers to quantitative funds or even to trend-followers. According to New York City Police Pension Fund public documents, its quant allocations include D.E. Shaw & Co. along with Quest Partners LLC, whose main offering is a CTA.
Yet Florin, which manages $750 million and is backed by Swedish allocator Brummer & Partners, appears to be the only trend-follower focused on illiquid assets used by the New York funds.
This exotic breed of CTAs has been an increasingly popular choice given the crowded nature of standard products, Greenig said. Still, with returns picking up for all types of trend-following, CTAs across the board may see new inflows. Florin posted a 6.3 percent return in August, while Soc Gen's CTA index posted 2.6 percent.
"The one part people still care about is the alternative or exotic market space, but the tone may be changing," he said. "People like to see returns and then they start getting excited."