Nobody Will Even Guess What Stocks Will Do After the Midterms
(Bloomberg) -- Reading market forecasts for the November congressional elections, you get the sense something is missing.
Like, the market forecasts. While Wall Street is awash with efforts to frame outcomes as the vote approaches, there's a discernible vagueness when you get to the part where strategists say what stocks will do. What's causing this? Something to do with the last round of predictions, perhaps.
You may recall a certain trepidation in the air over how markets would receive a Donald Trump victory in November 2016. Forecasts for declines of 5 or 10 percent in the S&P 500 were common and 20 percent wasn't unheard of. As everyone knows, they didn't come true, and this time around strategists are leaving a wider margin for error.
"Market reaction to policy changes is often different than expected," Mike Ryan, chief investment officer for the Americas at UBS Global Wealth Management, wrote in the firm's Election Watch report. "Since few can claim the ability to reliably predict elections -- look no further than the Brexit vote and the 2016 US presidential election -- humility is called for as we look forward to November."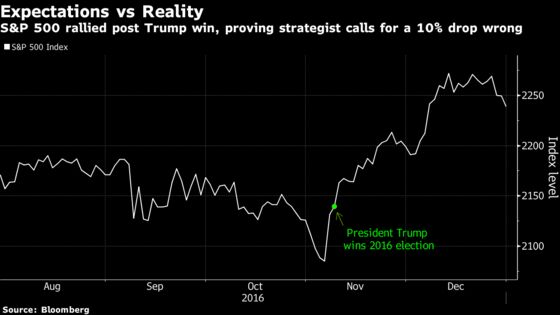 Wall Street thinks it knows how the election itself will go: Democrats will take the House, while Republicans hold on to the Senate. UBS puts odds of the outcome at 60 percent, Societe Generale calls it its "best guess," and BMO Global Asset Management says the likelihood is high.
Attempts to predict a percentage change in the S&P 500, on the other hand, are few and far between. It's an irony: two years ago, Wall Street was only too happy to say the market would plunge if Trump were elected. Now the Street's mum and it's Trump warning of a crash if he's booted out.
"Number one, you have to get the outcome correct, and number two, you have to get the market reaction correct. A lot of people got both wrong in the past election," said Jon Adams, senior investment strategist at BMO Global Asset Management "We prefer to continue to focus on the economic backdrop and the earnings backdrop. Our investment process is really much better at forecasting those variables than political outcomes."
Gone is the purported science that attended the 2016 election. Back then, economics professors Justin Wolfers and Eric Zitzewitz analyzed market fluctuations during and after a presidential debate to conclude stocks would fall 10 to 15 percent should Trump become commander-in-chief. It was a misguided call but not an unusual one.
"When Florida went to Trump, I had a couple clients call me and say, 'Just get me the hell out of the market,"' said Paul Nolte, a portfolio manager at Kingsview Asset Management. "Within 24 hours, we'd flipped around. What people thought was going to be the case wasn't even close. It's very hard to handicap that."
Wall Street often moves as a herd. On average, it's forecasters have never once predicted a down year in the S&P 500 since 1999. Estimates cluster around safe bets. Year in, year out, the average annual return seen by forecasters surveyed by Bloomberg comes to about 9 percent, almost exactly the gauge's historical return since the 1920s.
For better or worse, numerical targets are being deemphasized. Should the most probable outcome, gridlock, come to the fore, UBS says it should be more of the same. Infrastructure spending and drug price controls could be two areas ripe for compromise, the first a "modest positive for risk assets" and the second potentially weighing on pharmaceutical stocks. But ultimately, gridlock is a neutral environment.
According to BMO Global Asset Management, a split government is already priced in. It noted that in data going back to 1961, the S&P 500 has posted an annualized real return of 4.6 percent through periods with a divided government. Under complete Republican control, that return nearly triples.
Strategists are also willing to predict volatility will rise as November approaches. Midterm election years historically have seen the largest intra-year pullbacks, and the second and third quarters tend to see weakness, according to LPL Research. In the last 20 years, the S&P 500 on average has declined 3 percent in the second and third quarters of election years, compared to a gain of 1.5 percent across all quarters regardless of the year, data compiled by Bloomberg show.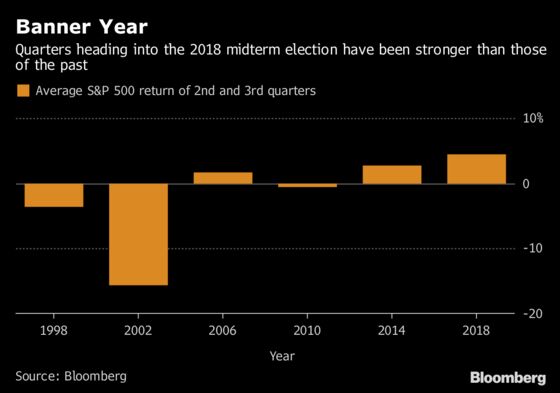 This year has already proved an outlier. The S&P 500 gained near 3 percent in the second quarter after an impressive earnings season helped U.S. stocks find their footing after a February correction. This quarter, the index is up more than 6 percent.
As for the days surrounding the actual event, markets haven't moved much immediately around past midterm elections, according to Vinay Viswanathan, a derivatives strategist for Macro Risk Advisors. On average, an exchange-traded fund that tracks the S&P 500, SPY, has moved less than 1 percent in the days before and after the last six midterm elections. In five of the six, the Cboe Volatility Index, also known as the VIX, dropped.
To Hank Smith, the co-chief investment officer at Haverford Trust, which manages $8 billion, the reality is that not much will change for markets in the aftermath of the midterm election.
"Every two years, pundits and politicians tell us this is the most important election of our lifetime," he said by phone. "The fact is, the policies that have been put into place, tax reform, regulatory rollbacks, that's not going to change regardless of the outcome of the election. If there is a downdraft and it's blamed on the midterm elections -- buying opportunity."