Deripaska's Team Sees Major Progress in Talks to Lift Sanctions
(Bloomberg) -- En+ Group Plc said it has made "substantial progress" after almost six months of talks with the U.S. Treasury on lifting sanctions from Russian billionaire Oleg Deripaska's companies.
There's "more work to do to reach a formal agreement," according to a statement from En+ on Saturday. The company, which is majority owned by Deripaska, didn't provide any details on the talks.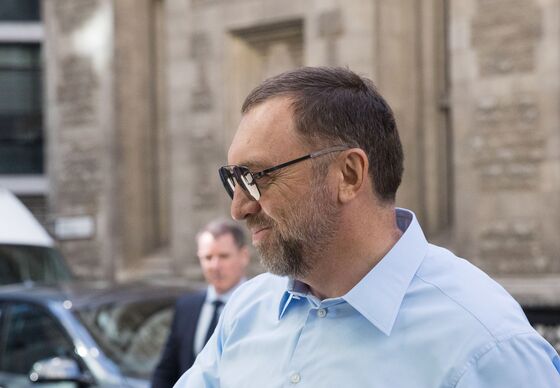 People familiar with the matter say there is a new plan under discussion that would still require Deripaska to cut his ownership in En+, but no longer involve VTB Bank PJSC taking a stake, as was previously discussed. A spokeswoman for Deripaska declined to comment.
The two sides have not reached a deal and it's uncertain whether the Treasury will accept the new proposal. Even so, it's clear that talks between Deripaska's representatives and the Treasury are progressing after a breakdown earlier this year, when Deripaska was said to have considered the U.S. demands too harsh and akin to "enslavement."
On Friday, the U.S. government released a statement allowing United Co. Rusal's customers more time to continue dealing with the Russian aluminum maker. En+ and United Co. Rusal have approached the U.S. about "substantial corporate governance changes that could potentially result in significant changes in control," a Treasury spokesman said in a press release without being identified.
Greg Barker, the chairman of En+, who is leading the negotiations, spent the past week in Washington, said a person familiar with the matter. The latest proposal is one of several that Deripaska's team has made since the sanctions were announced in April, but none were accepted by the Treasury.
The outcome of the talks will have a big impact on Rusal, which is part owned by Deripaska's En+ and ranks as the biggest aluminum producer outside of China.
The sanctions froze Rusal out of annual contract negotiations taking place this month, threatening to disrupt supply chains for parts critical to the automotive and aerospace industries. The company considered cutting output, three people familiar with the matter said this month.
Recently, the U.S. has taken steps to avoid more disruption in the global aluminum market, but keep pressure on the Russian billionaire. On Friday, the Treasury extended a deadline for customers to wind down business with Rusal from Oct. 23 to Nov. 12 -- after the U.S. midterm elections.
Last week, the Treasury suggested that customers could sign some new contracts with Rusal, as long as they were consistent with their dealings with the Russian company before the sanctions were imposed in April.