WTI Curve Rallies on Fears of Cushing Crude Hitting Tank Bottoms
(Bloomberg) -- Concerns that crude tanks at the key U.S. storage hub in Cushing, Oklahoma, will rapidly drain made a mark in the West Texas Intermediate futures market.
The premium for front-month U.S. oil over its second-month contract, known as the prompt spread, climbed to 74 cents, the highest intraday level in a month on Friday. Fears of tanks bottoming follows two straight weeks of shrinking crude supplies at Cushing, leaving total levels at the hub at 22.3 million barrels, according to the most recent U.S. government data.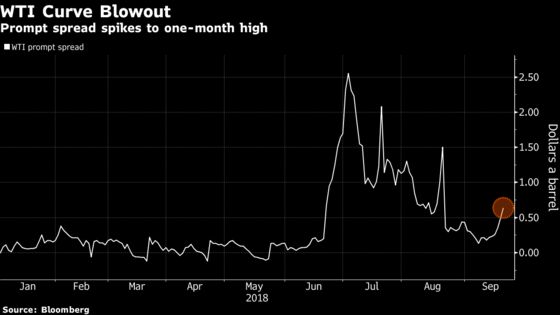 In the underlying physical market, the October-November WTI cash roll traded up to $1.25 a barrel, traders said. The cash roll allows traders to push long positions forward to later months or cover short positions in the three days following the expiration of the prompt New York Mercantile Exchange contract. WTI for October delivery expired on Thursday.
While Cushing inventories typically increase during the fall due to seasonal refinery maintenance and less demand from refiners, a wider WTI-Brent spread is leading overseas shippers to stock up on cheap U.S. barrels, shaking up the usual market structure for this time of year and normal seasonal supply builds.