Value Can Be Delivered in an Uber: European Equity Pre-Market
(Bloomberg) -- Euro Stoxx 50 futures are up 0.3%, after U.S. equities hit fresh records and Asian stocks followed through. Brace for this 'quadruple-witching' day that will see stock index futures, stock index options, stock options, and single stock futures expire, on top of several index reshuffles effective at close.
Further political drama in Europe, with French president Macron branding Brexiteers as "liars" and ongoing fighting inside the Italian coalition government over the next budget. But the noise did not stop the pound and the euro from flying. In fact, the dollar is weakening, while the correlation between the Euro Stoxx 50 and the euro reaches its highest level in two years.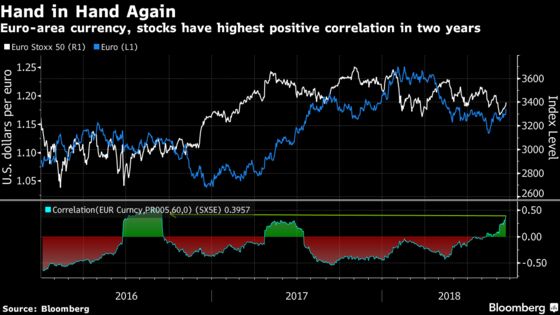 Uber is in early talks to buy food-delivery company Deliveroo for several billion dollars. A few peers are listed in Europe such as Just Eat and Delivery Hero. They will be stocks to watch, as well as European semiconductors after Micron released earnings and their forecast fell short of analysts' estimates, taking the stock down more than 7% in after hours trading.
Sector rotation here we are. It's a theme we have been flagging since the beginning of the month and this huge SX7E options trade. Banks have been the outperformers since, along with other sectors that have suffered from the U.S.-China trade war, namely autos and miners. Those sectors have been increasingly immune to the global trade noise, a hint that investors have started to price in the impact of tariffs and are now seeing upside risks if a trade deal is signed.
Another thing that caught our eyes recently: the number of profit warnings in Germany since August. Henkel, Continental, K+S, Zalando, Ceconomy, Suedzucker, Tom Tailor to name a few. We would not call it a trend yet, but it's worth keeping in mind.
A few things about emerging markets. Polish stocks will be joining FTSE's developed-market indexes on Sept. 24, a move that won't necessary trigger a surge in inflows. And a read through Credit Suisse Investment Committee meeting report shows that CS sees a buying opportunity into EM equities and EM bonds, as well as commodities, as they expect tariffs to have very little impact on economic growth while fundamentals are solid.
Elsewhere on Friday, copper climbs to highest level in more than a month as metals extend their surge, with Goldman Sachs predicting raw materials will gain through the year-end as investors become used to trade war tensions and growth in major economies remains strong. Gold still holds strong above $1,200.
And a quick reminder: Dassault Systemes will replace Solvay in the CAC40, Wirecard will replace Commerzbank in the DAX, while Linde Tendered, Amadeus IT and Kering will replace Saint-Gobain, E.ON and Deutsche Bank in the Euro Stoxx 50.
"As the bond rout continues, the biggest call investors have to make is whether the break of the multi-decade downtrend marks the end of the secular bull market. This is the big one. Get on the wrong side of a new multi-year bear market in government bonds and all investment portfolios will be shredded to ribbons, as bonds are the cornerstone of most equity valuation models." Societe Generale strategist Albert Edwards writes in a note, highlighting that he had written these exact same words in a strategy note in June 2007.
NOTES FROM THE SELL SIDE:
Hapag-Lloyd is initiated at equal-weight with EU40 PT by Morgan Stanley, with synergy and scale opportunities seen balanced by trade and regulatory risks.
Suedzucker shareholders may be faced by low sugar prices for 2 years, Bankhaus Lampe analyst Marc Gabriel writes in a note double-downgrading co. to sell from buy and slashing PT to EU10 from EU18.