Tilray's After-Hours Plunge Erases Much of This Week's Rally
(Bloomberg) -- Tilray Inc. is in a tailspin.
Shares in the Nanaimo, British Columbia-based weed company sank 30 percent to $123 at 4 p.m. in New York. That pushed the stock's two-day slide to 43 percent, the steepest since Tilray's initial public offering in July. The selloff continued in extended trading on Friday with the stock falling 18 percent before paring some losses. Tilray was trading around $112 as of 7:50 p.m. in New York, less than $3 above the closing price on Sept. 14.
Just two days ago, Tilray captured the attention of Wall Street as it took investors on one of the wildest rides yet in the euphoria surrounding pot stocks. The shares nearly doubled Wednesday, then wiped out that gain within an hour only to surge almost 40 percent into the close.
"Markets are driven between poles of fear and greed," Kim Forrest, a senior portfolio manager at Fort Pitt Capital Group in Pittsburgh, said by phone. "People don't understand the economics of these companies, but they wanted it. Everyone wants easy money."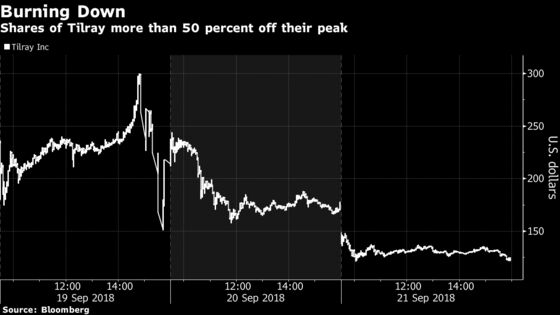 The fluctuations drew comparisons to the Bitcoin craze and even the height of the dot-com bubble. Neither of those turned out well.
"I was speaking at a client event yesterday and I had to address it," Forest said. "I had a couple emails from our consultants saying, 'This person wants to buy Tilray, what should I tell them?' I said buy it now and your money is going to go up in smoke. The best email I got was, 'My friend made $100,000 with these stocks.' OK, but did he really? Today Tilray is down."