The World's Largest Pot ETF Didn't Hold Tilray. But Now It Does
(Bloomberg) -- The world's largest marijuana ETF added the world's hottest pot stock to its portfolio Friday after investors fled.
Until this morning, the $880 million Horizons Marijuana Life Sciences Index ETF, or HMMJ, didn't hold Tilray Inc. So it missed one of the biggest booms in the stock market this year, as the Nanaimo, British Columbia-based company became a proxy for the latest investment craze and the shares soared, more than tripling over the last 30 days.
"They dropped the ball by not having it," said Bloomberg Intelligence analyst Eric Balchunas. "It's better late than never, but I do think investors are bummed they bought a pot ETF and it didn't have this white-hot stock."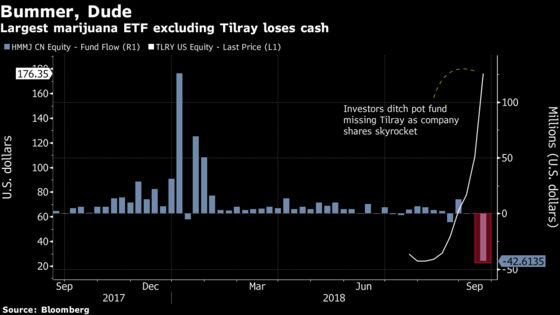 HMMJ now has a 3.7 percent position in Tilray, making the company its ninth-largest holding. The change comes after a record streak of outflows, as the ETF is on track to lose close to $43 million this week. Meanwhile, a rival fund, the ETFMG Alternative Harvest ETF, or MJ, has had $39 million of inflows this week, all on Wednesday.
The underlying index for the Horizons ETF, the Solactive North American Marijuana Index, said on Sept. 12 that Tilray would be added by Sept. 30 to coincide with the quarterly rebalancing date, according to Mark Noble, head of sales strategy at Horizons. But the ETF manager decided to move up that date.
"Our portfolio management group has the discipline of following the index," Noble said. "But we know that Tilray is going to be a meaningful part of the index, and we did a short-hand calculation of what we anticipate the weighting will be."