'Quad Witching' Brings Volume Surge But Few Fireworks on S&P 500
(Bloomberg) -- An advance that sent stocks to record highs faded into the close as two major market events collided, spurring one of the year's busiest trading days.
More than 10 billion shares changed hands on U.S. exchanges Friday, about 65 percent above the three-month average. The S&P 500 ended Friday little changed at 4 p.m. in New York, after initial gains failed to hold amid the quarterly event known as "quadruple witching" -- when futures and options on indexes and individual stocks expire.
The surge in volume wasn't unexpected, but it was exacerbated by a wild card -- the largest revision to the Global Industry Classification Standard since 1999.
"If you're an investor who got a long-term investment plan, this is not something you want to change your plan around. But if you're doing it for a living, it's certainly something you should be aware of," Art Hogan, chief market strategist at B Riley FBR Inc., said by phone. "It's a huge day."
The anticipated spike in turbulence hit a market already roiled by rising trade tensions between the U.S. and China. The S&P 500 swung 0.5 percent a day this week, almost double the average in the previous month.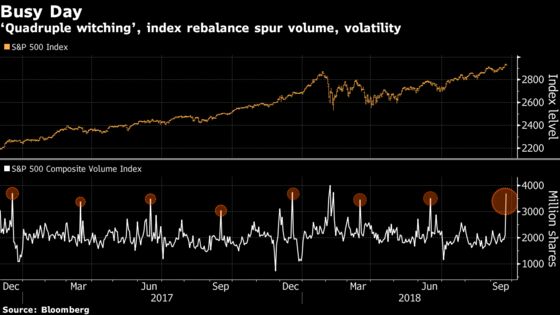 While the quadruple witching event normally coincides with index rebalancing, the scope of Friday's shuffling is what set it apart. Index overseer S&P Global will merge some internet and media stocks with phone companies to form a new group called communication services after the close.
That'll take Alphabet Inc., Facebook Inc. and Netflix Inc. out of their respective subsectors, forcing investors who track indexes based on the classification to shuffle money accordingly. With the quarterly rebalancing, UBS Group AG says the moves could force about $70 billion of trades Friday.
The last quadruple witching was June 15, and S&P 500 trading volume surged 75 percent to 3.5 billion shares from the previous month, data compiled by Bloomberg showed.
While trade-war anxiety and rising Treasury yields have contributed to wider market swings, investors should be careful not to read too much into this week's move, as volatility tends to go up when fund managers try to adjust positions using new derivatives, said Russ Visch, a technical analyst at BMO Capital Markets in Toronto.
"Our sense is that the price action was exacerbated/amplified by the fact that this week is a 'quadruple witching' week and not the beginning of a major swoon in U.S. equities," Visch wrote in a note to clients earlier this week.