Oil Gets More Love Than the Companies Producing It
(Bloomberg Opinion) -- If the president is tweeting about OPEC, then it means oil is looking sprightly (partly due to his own actions). Many seem to share his view: Consensus forecasts for prices keep rising.
In Bernstein Research's latest quarterly survey of energy investors, 46 percent saw West Texas Intermediate crude oil averaging more than $70 a barrel over the next 12 months, up from 25 percent in the prior survey.
But if everyone seems to love oil, the same can't be said for the companies producing it. At 5.6 times forward cash flow, the E&P sector is trading more than one turn below where it started the year. Relative to the broader market, it's getting back to levels seen in prior oil crashes: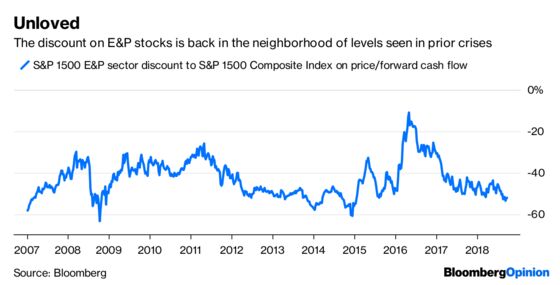 The world has changed a lot in the past decade or so. In those unreal days just before oil crashed in late 2008 – along with everything else – the first iPhone was barely a year old and Facebook Inc. was still years away from its IPO. "Peak oil," meanwhile, meant running out of barrels; now it means running out of uses for the stuff. Big Tech has displaced Big Oil at the top of the market-cap rankings. So it's only natural that energy's weighting in the market has fallen. Still, the drop is staggering: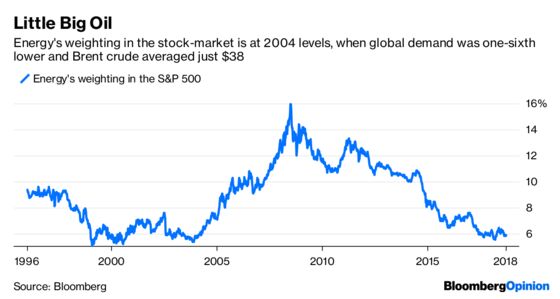 Besides existential angst about oil demand – even as it's about to top 100 million barrels a day for the first time ever – the other thing that's been sprung upon this sector is shale. And this gets at what is likely ailing stocks even as oil prices recover.
In a note published on Friday morning, veteran analyst Paul Sankey of Mizuho Securities reflected on a recent series of meetings with investors in Texas. One line stuck out, especially: "… all oil specialists are bullish, generalists not so much."
Oil producers are still being punished for past sins. The shale boom did wonders for U.S. oil production but a lot of damage to free cash flow, balance sheets and ultimately management credibility at E&P companies. Compensation practices that rewarded growth above all else and often shielded bosses from their mistakes have been a big factor in this. Big Oil also hasn't delivered, with a decade of investment in costly megaprojects causing balance sheets to balloon and returns to shrivel.
The industry gets that it messed up. No oil major's slide deck is complete these days without some chart showing how they are living within their means, in part by keeping a check on their expansive tendencies. Even among the smaller E&P companies, pay practices are being reformed, return on capital is a thing, and some are even paying dividends or buying back shares. Big or small, any producer hoping to win favor has to talk about chasing breakeven prices down, not Nymex prices up.
But it is relatively early days in this process of redemption. The oil majors' free cash flow has improved markedly in the past couple of years but still turned in a disappointing set of results overall for the second quarter. The E&P sector, meanwhile, is just about managing to live within its means, at least at the aggregate level. Bernstein calculates that, for 56 companies it tracks, cash from operations has now exceeded capex for three quarters in a row. Even so, talk of raising spending was prevalent on second-quarter earnings calls, teeing up a big selloff in August.
The lack of faith and those dismal relative valuations would suggest the sector's fortunes are due for a turn, provided oil prices don't drop. Yet that depends on persuading investors to come back in, for which talk of discipline and, importantly, evidence of it in numbers and budgets is critical. There's a lot riding on that next wave of earnings calls this fall. 
This column does not necessarily reflect the opinion of the editorial board or Bloomberg LP and its owners.
Liam Denning is a Bloomberg Opinion columnist covering energy, mining and commodities. He previously was editor of the Wall Street Journal's Heard on the Street column and wrote for the Financial Times' Lex column. He was also an investment banker.