Micron Analysts Keep Saying Buy as China Tariffs Hit Demand
(Bloomberg) -- Micron Technology Inc.'s lower-than-expected revenue forecast drove the stock down as much as 4.9 percent Friday. Analysts cut their price targets as the U.S.'s largest memory chip manufacturer blames the share pullback on China-U.S. trade tariffs and near term headwinds. While concerns over dwindling demand persist, some analysts see a selloff in shares as a buying opportunity.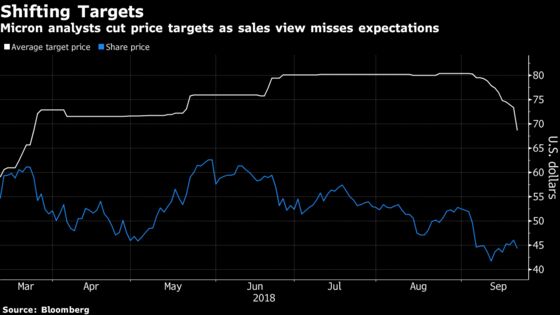 Here's what Wall Street is saying:
Rosenblatt Securities, Hans Mosesmann
"A few puts and takes but if we have entered a down-cycle, we are clearly buyers of MU today." Rosenblatt told clients in a note.
The bear case on structural collapse in pricing is untenable, given supply dynamics for 2019 and healthy memory content growth.
The firm sees some near-term headwinds for Micron, including: CPU shortages, DRAM inventories at a few customers, some NAND pricing pressure, and tariff impacts
Rates buy, cuts price target to $110 from $120
Mizuho Securities, Vijay Rakesh
Micron had a solid quarter with a 71 percent DRAM gross margin, and gave a tougher guidance impacted by tariffs and 14 nanometer shortages.
With a $10 billion buyback and strong free cash flow, Mizuho believes Micron presents an attractive opportunity despite weakening investor sentiment.
Maintains buy rating, lowers price target to $65 from $72
A shortage in CPUs in server and personal computer environments is throttling memory demand in a seasonally strong period, Cowen says. Issues are compounded by China-U.S. trade tariffs that appear to have caused a pull-in of demand.
While Ackerman "does not applaud the untimely termination" of segment gross margins disclosure ahead of a multitude of product transitions that should pinch costs near term, believes Micron is simply playing catch-up with its peers who have always eschewed disclosing segment profitability.
Outperform, maintains price target $62
Bloomberg Intelligence, Anand Srinivasan
Concerns about a memory supply-demand mismatch are likely to persist, Bloomberg Intelligence writes, given Micron's forecast of weaker fiscal first-quarter sales, margins and earnings per share.
"Server DRAM and solid-state drive capacity and shipments may need to improve to fuel demand amid lower prices to paint a picture of a reformed industry."
"DRAM and NAND industry bit growth in 2019 may be lower than in 2018 amid notable cost improvements."