One Investor Yanks More Than Half of the Assets From Invesco's EM ETF
(Bloomberg) -- One large investor called it quits on an exchange-traded fund tracking low volatility emerging-market stocks -- and took more than half of the fund's assets with them.
The Invesco S&P Emerging Markets Low Volatility ETF, or EELV, has seen about $320 million of outflows since Sept. 4, when it appears one investor triggered a massive block trade. About 16.5 million shares worth $404 million were sold in that deal, a similar size to a block of 15.8 million shares worth $418 million that one investor bought on April 4.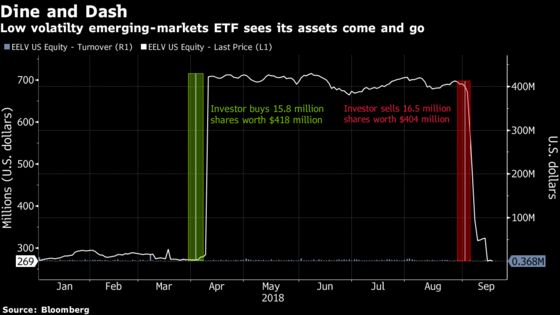 Gradient Investments owned about 16.9 million shares of EELV as of June 30, Bloomberg data show. In the past, the Arden Hills, Minnesota-based money manager has been known to shift cash based on its tactical rotation strategy, which invests in markets identified as having the most momentum.
Representatives for Gradient declined to comment on the firm's trades.
Emerging-market equities sold off this year, slumping the most since 2015 in the second quarter, amid rising U.S. interest rates and a rebounding dollar. After briefly rebounding in July, they resumed losses in August and are heading toward another down month as the group is pressured by domestic crises in Turkey and Argentina.
EELV has navigated the turmoil well -- the fund is essentially flat for the year compared with a 9 percent loss for the $31 billion iShares MSCI Emerging Markets ETF, or EEM -- as its bet on Taiwanese stocks has paid off. Around 28 percent of EELV's holdings are in Taiwan, versus a 12 percent weight for the EEM benchmark. EELV's exposure to Malaysia, Thailand and Mexico has also helped.