Britain Fights to Stay Fashionable in Face of Brexit
(Bloomberg) -- In the 1990s heyday of "cool Britannia," designers John Galliano and Alexander McQueen ruled the runway, Burberry's tartan was the design of the moment and model Kate Moss zipped around the globe to the tune of Oasis and the Spice Girls, sporting a Union Jack blazer.
But the music has stopped and today's fashion kids are more likely to wear a European Union flag hoodie. The royal blue and gold-starred sweatshirts are a sign of a shifting fashion landscape, with industry angst growing over whether the U.K. can maintain its trend-setting reputation as it prepares to leave the EU.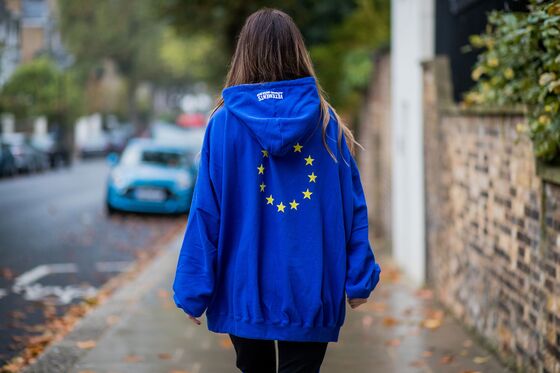 "I know Brexit is responsible for a great deal of uncertainty and concern," Margot James, minister for the creative industries, said as she opened London Fashion Week. "One thing that keeps me going is that the creativity in this country exemplified by your industry knows no borders."
With luxury's image-makers gathered in London as Prime Minister Theresa May declared an "impasse" in Brexit talks, the spotlight on British brands has been even brighter than usual. Burberry Group Plc debuted a new designer, and Victoria Beckham brought her runway show home from New York for the first time in 10 years. Tailors on London's fabled Savile Row staged a street party to showcase their ateliers.
At first glance, Britain's fashion industry is doing just fine. It contributed 32.3 billion pounds ($43 billion) to the U.K. economy last year, up 5.4 percent from 2016, according to Oxford Economics, as the Brexit-induced weakness of the pound boosted tourist spending and made exports more attractive.
U.K. luxury upstart Matchesfashion.com garnered a $1 billion valuation when it sold to a private equity firm last year, while London-based online luxury platform Farfetch Ltd. held an initial public offering Thursday in New York that raised $885 million. Chanel Ltd. is moving some global corporate functions to the British capital from the U.S.
But Britain's retailers are sinking deeper into a crisis brought on by the rise of Amazon.com Inc. and exacerbated by pound's tumble. Department-store operator House of Fraser was sold to billionaire Mike Ashley's Sports Direct International Plc after initiating insolvency procedures. Fallout has spread to brands that sell via the chain, with shares of leather-goods maker Mulberry Plc plunging in the wake of the deal.
"The structure of the market has changed. People shop more high-low than they used to," said Paul Martin, U.K. head of retail at KPMG, pointing out that Britain's midpriced retailers are struggling while the likes of Gucci and Uniqlo thrive.
Burberry -- the anchor of the British fashion industry, with more than $3.6 billion in annual sales -- has turned to the continent to bolster its luxury credentials. The new chief executive officer and creative director, both Italian, were plucked from French luxury conglomerate LVMH, and the company recently bought a handbag factory in Tuscany.
If the U.K.'s image has taken a hit among the trendsetting young shoppers powering the fashion industry's growth -- as well as with the global talent pool that creates the latest looks -- British designers are trying to show that the island nation is still the place to be.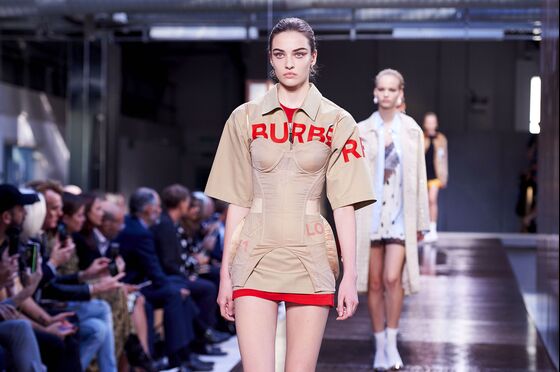 Brexit sent "a message that really didn't reflect us," said Hywel Davies, director of the fashion program at Central Saint Martins, the academy that trained McQueen and other icons. Now students and designers are working to "challenge Brexit creatively," he said.
One way for hip designers to do that is to push the experimental envelope, thumbing their nose at conservative conventions. The likes of Charles Jeffrey and Harris Reed dressed male models in skirts and puff-sleeve blouses, responding to demand for clothes for people whose genders don't fit traditional molds.
Even Burberry has tried to loosen its stiff upper lip. New designer Riccardo Tisci mined a range of British references -- from sleek overcoats to Sex Pistols lyrics -- in his debut collection, offsetting them with a suite of streetwear-inspired logo hoodies and sneakers. Recent ad campaigns gleefully embrace queerness and racial diversity.
Never mind that some of London's more buttoned-down purveyors of the traditional look are doing just fine -- thanks in part to Brexit.
Savile Row suitmaker Henry Poole & Co., whose clients have included Winston Churchill, Charles Dickens and guests at the latest royal wedding, has gotten a boost from the pound's fall because 70 percent of its customers are now outside the U.K.
"The exchange rate not only means people are coming more often but they're also buying more suits," said Simon Cundey, 50, co-owner of the store, with a suit bag bearing the royal initials "HRH PA" ready for collection behind him.