Brazil Hedge Fund That Trounced Peers Is Retrenching Before Vote
(Bloomberg) -- A Brazil hedge-fund manager who beat 98 percent of peers over the past five years is putting on the brakes ahead of next month's presidential election.
Carlos Woelz, the co-founder of Kapitalo Investimentos, says that while companies are in a much better position than they were a few years ago after deleveraging and rebuilding their balance sheets, there's just too much going against Brazil now to be bullish. Namely, the elections and a global growth cycle that he says is coming to an end.
"A lot of bad news has been discounted in the prices, but I'm not very long right now," he said in an interview at his office in Sao Paulo. "If we were at another point in the global cycle, I would face the political risk. If we were at a different point with the political risk, I would face the global cycle. But the two of them together are too much for me."
Woelz isn't alone in shying away from making a big bet in Brazil. Analysts and investors at UBS Group AG to JPMorgan Chase & Co. have said that it's better to stay on the sidelines for now. Exchange-traded funds have been bleeding money, with the $5.3 billion iShares MSCI Brazil ETF falling more than 10 percent in August, which also saw its worst-ever month of outflows. The real has dropped 19 percent this year, the worst among major currencies.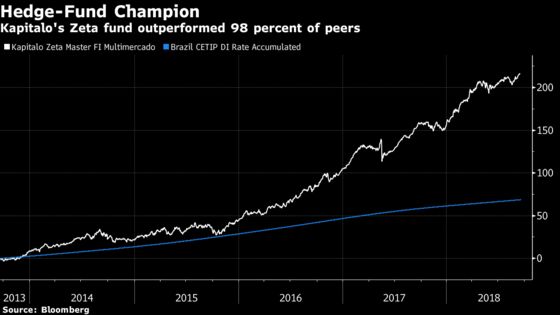 Kapitalo's 7.3 billion real ($1.8 billion) Zeta Master FI Multimercado fund is one of the top performing hedge funds over the past five years in Brazil, with a total return of 217 percent, according to data compiled by Bloomberg. The fund has returned 24 percent so far this year, beating most of its peers.
Within equities, he's more optimistic on pulp and paper, logistics, utilities, healthcare, mining and banks -- mostly sectors that are less dependent on the Brazilian economy, or are seen as more defensive plays; he's shorting consumer, education and real estate stocks. The fund is also long on the U.S. dollar versus the real, a reversal from a position it held earlier this year.
"The election is more polarized and therefore more dangerous to play," he said. "If you have a bad outcome, it will be really bad."
Woelz declined to say which candidates he sees as bad outcomes, but like most investors he's concerned that the next government might pull back on initiatives to cut spending, raise taxes and shore up fiscal accounts. The country is emerging from its worst recession in a century, a period that saw Brazil lose its investment-grade credit rating as the real dropped to a record and the Ibovespa plunged to the lowest since the global financial crisis.
Woelz says it's very hard to guess at the outcome of first-round ballot Oct. 7. Unless one contender gets a majority of votes, which seems unlikely in a crowded field with a dozen candidates, the top two will face off in a final round Oct. 28.
Woelz says that investors look somewhat favorably at economic proposals from the centrists Marina Silva and Geraldo Alckmin, while the conservative Jair Bolsonaro has also become more appealing as the campaign has progressed. Bolsonaro, the former army captain who leads polls, has proposals that are "less worrying" than they were in January, largely due to his partnership with economist Paulo Guedes, Woelz said. He finds less to like among the left-wing candidates, former Sao Paulo Mayor Fernando Haddad and the former governor Ciro Gomes.
Haddad was backed by 16 percent of respondents in the Datafolha survey published early on Thursday, compared with 13 percent in a Sept. 14 poll and only 4 percent in August. Gomes garnered 13 percent, a statistical tie between the two of them. Bolsonaro leads the race with 28 percent, edging up from 26 percent.
"It's not like there isn't a huge opportunity in Brazil, I think there is," Woelz said. "But maybe it's a huge short opportunity."