The Brexit Clock Ticks for Stocks: European Equity Pre-Market
(Bloomberg) -- Euro Stoxx 50 futures are slightly up. Strong gains on Wall Street yesterday, with investors shrugging off the latest headlines on the U.S.-China trade war. The VIX fell back to 12.8, and looking at the "fear gauge" chart, there isn't much fear priced in.
It's a different story in European markets, which keep underperforming. All eyes will be on the U.K. Prime Minister Theresa May's meeting with European leaders in Austria today. Traders will be trying to gauge the likelihood and timing of a Brexit deal.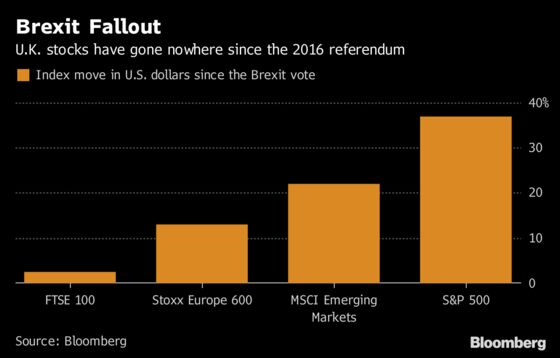 Any positive signal on that front could help stop the exodus from European equity funds. According to Bernstein strategists, investors have redeemed an additional $1.4 billion from European equity funds in the latest week -- a 26th week of selling in the past 27 weeks, with redemptions over that period adding up to $57 billion, more than reversing the $52 billion of net inflows enjoyed by European equities between early 2017 and March this year.
There are some positive signs emerging from the fixed income space, with the euro-area's worst-performing government bonds now having the backing of the world's biggest money manager: BlackRock. It has switched to a long position on Italy from a neutral stance, citing increasing optimism the nation's politics is moving "toward a much more reasonable outcome." As for emerging markets, Goldman Sachs AM has started to buy Turkish and Argentinian government debt after the recent rout in both markets.
On a sector level, European car registrations skyrocketed in August with deliveries of new passenger cars jumping 30 percent. This could help fuel a nascent recovery in the auto sector, one of the most hit by the trade tensions. Mining could also gain ground as base metals rise, with investors looking past the latest trade salvos from Washington and Beijing to a pickup in Chinese demand.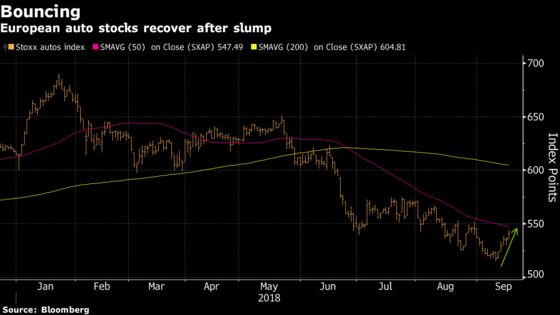 "Despite trade headwinds, our asset allocation remains overweight equities vs. fixed income, with an increasing contrarian tilt towards emerging markets, value and non-USD assets," JPMorgan strategists including Marko Kolanovic write in a note. "The main premise is that the global growth cycle is intact, and the divergence between U.S. and international fundamentals, investor sentiment and asset performance reached extremes."
NOTES FROM THE SELL SIDE:
Commerzbank shares have de-rated but could benefit from the fact that a potential takeover by Deutsche Bank now looks more likely, RBC analyst Anke Reingen writes in a note upgrading co. to outperform speculative risk from sector perform.
Prysmian's 2Q results beat both JPMorgan and market expectations and the submarine market may be reaching an inflection point, JPMorgan analyst Akash Gupta writes in a note.
Iliad PT cut 19% to EU105 by Morgan Stanley in note, the second-lowest among analysts tracked by Bloomberg, as broker sees scope for French wireless revenue growth to turn negative in the next quarter and with 2020 guidance still viewed as "very optimistic."