The Bigger Question for Stock Investors in Japan's Upcoming Vote
(Bloomberg) -- At first glance, Japan's ruling party leadership election may seem like the dampest of squibs. It's widely expected that Prime Minister Shinzo Abe will claim victory, and in doing so, be in a position to lead the country for three more years.
But under the surface, stock investors are looking at a different question. They want to know how well Abe's rival, the former defense minister Shigeru Ishiba, will fare, even in defeat. And at least some of them are hoping that he'll get crushed.
A narrow win for Abe would send a negative signal as Ishiba's influence within the ruling party would increase, according to UBS Wealth Management. That would put the era of full-throttle stimulus policies "on its last legs," according to Toru Ibayashi, head of Japanese equities at the money manager, who points out Ishiba's perceived hawkish stance on monetary and fiscal policy.
"The market seems to be underestimating the impact if Ishiba garners" a lot of votes, Ibayashi said in an interview. "That would be the beginning of the end of Abenomics."
Abe faces off against Ishiba today in the Liberal Democratic Party presidential election, with the winner getting the role for a three-year term and the prime minister post. They'll be competing for 810 votes, 405 from the party's lawmakers and the same number apportioned to its rank-and-file members.
Ibayashi even has a number in mind. If Ishiba gets more than 270 votes, or 33 percent of the total, that would be bad news for stocks, he said. A recent poll of LDP party members and supporters by the Yomiuri newspaper showed he's expected to win 36 percent of their votes.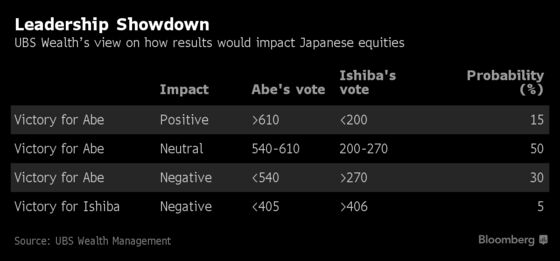 Ishiba has repeatedly emphasized the importance of having a balanced budget. In August, he said he'd manage the economy with "fiscal balance" in mind. In an interview with Bloomberg last year, he said Japan must stick to its target of having such a balance by fiscal 2020. He added it would be a "problem" if the current unprecedented easing policy continued indefinitely.
"Ishiba has quite strong fiscal discipline," which would be negative for stocks, Naoki Kamiyama, chief strategist at Nikko Asset Management Co., said in an interview. "That's the only thing we know."
How much support Abe has is "almost the same thing as support for the Bank of Japan," Ibayashi said. That's all the more reason why the market would be nervous about bigger-than-expected support for Ishiba, he added. The bank has been carrying out an unprecedented program of monetary easing under Governor Haruhiko Kuroda.
The benchmark Topix index is down 1.8 percent this year, after falling by as much as 8.4 percent amid huge net selling by foreign investors. The market has been whipsawed by everything from concerns about trade wars to the impact of next year's sales-tax increase.
In that context, UBS's Ibayashi says, he knows what he'll be looking at on Sept. 20.
"Two hundred and seventy is the magic number," he said. "It may be the clear beginning of the end."