European Banks Are Now Offering Highest Payout Since 2008 Crisis
(Bloomberg) -- Pay attention to battered and "unusually attractive" European banking stocks, says Credit Suisse Group AG.
European banks are offering the highest payout relative to the broad market since the 2008 financial crisis, and this is a strong signal to buy the undervalued stocks, Credit Suisse strategists wrote.
"The dividend yield of European banks versus the market has been higher only once before, during the height of the banking crisis in 2008-2009 when CDS spreads widened sharply," the strategists led by Andrew Garthwaite said in a note. Apart from then, "previous occasions with a similarly elevated dividend yield saw banks outperform strongly over the subsequent 12 months," they added.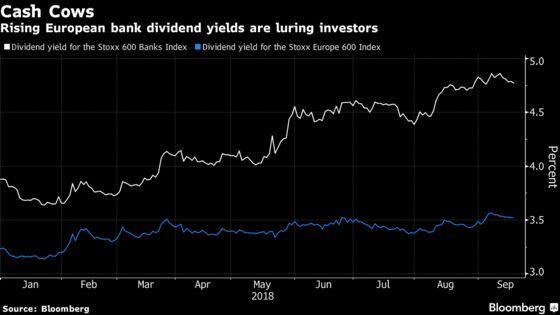 The Stoxx Europe 600 Banks Index is down 15 percent in 2018, the second-worst performer in the region, as disappointment over the pace of European Central Bank's rate increases and concern about the Turkish crisis fueled outflows. The drop in the price of equities has boosted the dividend yield for the banking gauge to 4.8 percent, the highest in two years.
European banks trade at 0.8 times forward price to book ratio, compared with 1.3 times for U.S. peers. Credit Suisse strategists see the gap as "too big" and say that European banks have room to surprise with a gain.