New Zealand Economy Grew More Than Forecast in Second Quarter
(Bloomberg) -- New Zealand's economy grew at the fastest pace in two years in the second quarter, prompting markets to pare bets on an interest-rate cut. The currency rose to a three-week high.
While growth exceeded the Reserve Bank's 0.5 percent forecast, the central bank may still keep the option of a rate cut on the table amid a slump in business confidence that could damp activity in the medium term. The RBNZ has said it's closely watching developments in the current quarter, when it wants to see evidence that fiscal stimulus is boosting growth.
The Data:
Gross domestic product gained 1% from 1Q, when it rose 0.5%
That's faster than the 0.8% median estimate in a Bloomberg survey and the most since 2Q 2016
From a year earlier, growth accelerated to 2.8% from 2.6%; economists expected a slowdown to 2.5%
While today's report was "undeniably stronger than we had anticipated" and will provide the RBNZ with some reassurance, the central bank "will not be complacent about downside risks," said Liz Kendall, senior economist at ANZ Bank in Wellington. "The RBNZ will be focused on how economic activity evolves from here, standing at the ready to cut the official cash rate should they judge the economy needs it."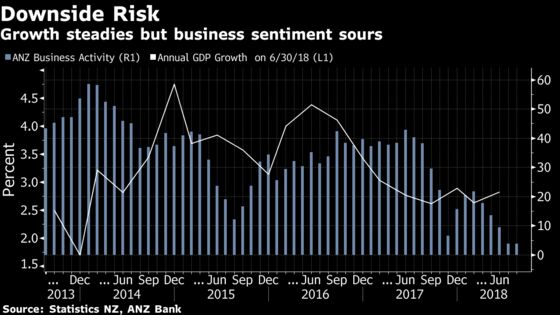 The New Zealand dollar jumped almost half a U.S. cent after the GDP report and bought 66.49 cents at 12:31 p.m. in Wellington.
The central bank surprised markets and economists with its dovish tilt in August, when it said it was likely to keep the OCR at a record-low 1.75 percent until 2020 and that the chances of a rate cut had increased. But investors reduced bets on a rate decrease after today's GDP report -- they now see a 22 percent chance of one by June, down from 36 percent yesterday, according to swaps data compiled by Bloomberg.
Assistant Governor John McDermott last month pinpointed third-quarter GDP as a key piece of data, saying the bank expects the government's increased payments to families, which took effect July 1, to drive growth of 0.8 percent. If that acceleration failed to materialize, it would cause the RBNZ "to reconsider where we're at," McDermott said.
Business confidence fell to a 10-year low in August, while a report yesterday showed consumer sentiment in the third quarter was the lowest in six years.
In the second quarter, economic growth was broad-based with 15 of 16 industries recording higher production, the statistics agency said. Details from the report include:
Farm output rose 4.2% amid a rebound in milk production
Mining fell the most in 30 years after an unplanned outage at the nation's biggest gas field
Electricity generation was the largest in nine years
Measured by spending rather than output, GDP grew 1.2% from the first quarter
Household spending rose 1%, led by durable goods and purchases by foreign visitors
Exports rose on dairy products and tourism
GDP per capita rose 0.5% from the first quarter