Malaysia to Lay More Charges Against Najib in 1MDB-Linked Case
(Bloomberg) -- Malaysia's former premier Najib Razak will face new charges in a case linked to troubled state fund 1MDB, following earlier allegations of money laundering and corruption.
The expected allegations against Najib are part of a case linked to 2.6 billion ringgit ($627 million) of funds transferred to his personal account, the Malaysian Anti-Corruption Commission said in a statement, after detaining him on Wednesday afternoon. The charges will be presented in Kuala Lumpur at 3 p.m. on Thursday.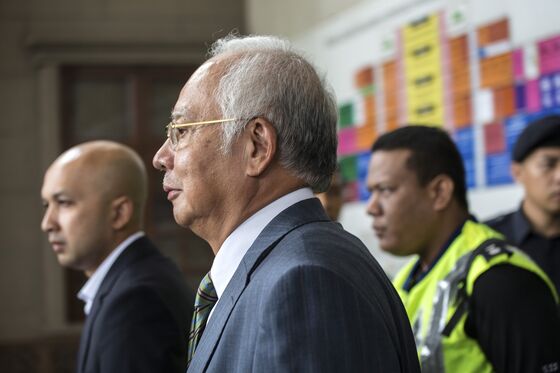 Najib has pleaded not guilty to several counts of corruption, money laundering, and abuse of power linked to a 1MDB probe and has had charges laid against him in two previous court appearances. Malaysian investigators are moving their sights overseas after compiling nearly all the domestic evidence they need. The anti-graft agency said 60 percent of the work is completed in tracing the money flows from 1MDB, which lies at the center of multiple investigations spanning the globe.
Last week, the police said they found a total $972 million of transfers to Najib's accounts involving 132 transactions through three channels that they identified as Good Star, Aabar and Tanore, Deputy Inspector-General Noor Rashid Ibrahim said in a statement.
Malaysian authorities are seeking cooperation from other countries, including Singapore that has returned S$15.3 million ($11.2 million) of 1MDB funds, as well as the U.S., Switzerland and Saudi Arabia.