Hedge Funds Call Time on Investors' Persistent Fee Squeeze
(Bloomberg) -- After years of cutting fees, hedge funds are balking at lowering them even further as portfolio running costs rise, according to a PwC and Alternative Investment Management Association study.
More than three-quarters of respondents in the survey of 140 asset managers across Europe, North America and Asia say they're not planning on decreasing their money-management charges. In the current buyers' market, investors have been able to exert considerable pressure on fees, PwC and AIMA said.
"Many alternative fund managers have reduced their fees over the course of the equity bull run and some may feel they have cut their margins to the bone," according to the study. "Their operating costs are rising as many invest in new technology and as competition rises for quantifiable investment skill. So fees are not likely to move much further in the near term."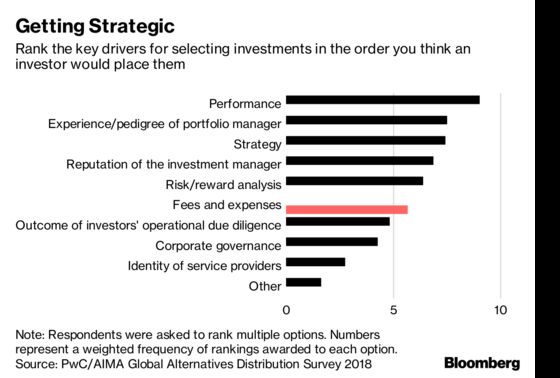 Hedge funds around the world have cut fees in recent years as disgruntled investors bemoan lackluster returns and turn to low-cost alternatives such as exchange-traded and mutual funds. Now, just 3 percent of investors pay a 2 percent management fee -- once standard in the industry -- and 16 percent a 20 percent incentive fee, according to a Credit Suisse Group AG survey published last month. These days, the average management fee is 1.45 percent of assets while the average performance fee is about 17 percent.
One Asia-based manager, which hasn't suffered any negative years, told the PwC and AIMA survey that they're "not interested" in talking to investors that seek to negotiate on fees. Even so, more than a fifth of respondents said they would still be open to lowering fees, either to attract new investors or retain existing ones.
Other managers have been willing to adopt more innovative fee models that are agreed in advance with investors, according to the study. Some, for instance, receive no management fees but a higher performance fee for any alpha generated. "Indeed, there has been a growing interest in the 1+30 concept, where managers are primarily rewarded for true performance, with a minimal management fee to cover base level running costs," the survey said.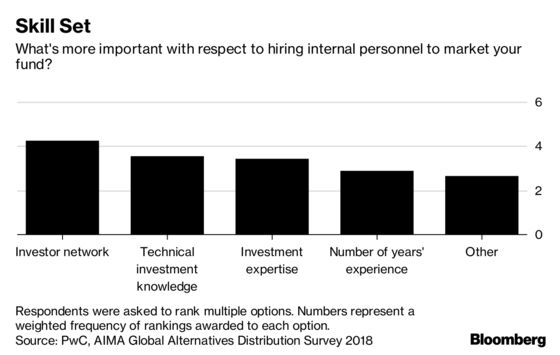 Another consequence of having an investor base that's more critical about performance has been that decisions to allocate to alternative investment strategies are taking much longer. About one-quarter of respondents say lead times to investment are three to six months, with 66 percent citing even longer durations, the PwC and AIMA survey said.
The study also found that political developments such as Brexit are unlikely to disrupt fund managers' buying patterns, and that the industry as a whole is still processing the impact of the recent tax reform in the U.S.