Should He Stay or Go? Debate Rages in Iran Over Rouhani's UN Trip
(Bloomberg) -- Should he stay or should he go?
Ahead of next week's annual gathering of the United Nations in New York, the debate in Iran over President Hassan Rouhani's attendance has been raging.
Hardline conservatives, rarely keen on their leaders crossing the Atlantic, called for a boycott in response to the "insults" of a Trump administration determined to weaken Iran. Rouhani's more moderate supporters said he must show up to rally opposition to U.S. pressure.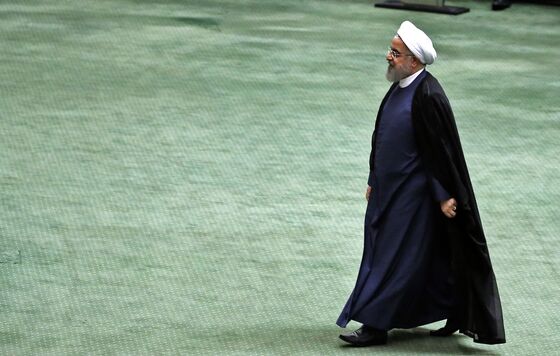 On Tuesday, it seemed the latter had won, with Rouhani's office saying he'd leave for the U.S. on Sept. 23. But the intensity of the tussle highlights the uncertainty in Tehran as officials vacillate between wanting to appear undaunted and not alienating powers that have vowed to help salvage the 2015 nuclear accord President Donald Trump abandoned.
"The question is, can the Iranians win the Europeans to their side and isolate Trump and the U.S.?" said Peyman Jafari, who teaches Iranian affairs at the University of Amsterdam. "Those who are skeptical about Europe don't see any good in playing this game," he said. But those who think it wise to "try to get the Europeans closer to Iran and show goodwill, they are the ones who want" Rouhani to attend.
It's all a long way from 2013, when Rouhani launched his push to end Iran's economic and political isolation from the pulpit of the UN General Assembly. A 15-minute call with then-President Barack Obama during his stay heralded a historic thaw in relations. Those overtures ultimately led to the multi-nation deal reached nearly two years later, which eased international sanctions in return for restrictions on Iranian nuclear enrichment.
Trump exited the accord in May, restoring sanctions that are already battering the Islamic Republic's oil industry. His stated aim is to force Iran's leaders into a new agreement that also curbs their regional power. For many in Tehran, it looks like attempted regime change. International monitors have repeatedly reported Iranian compliance with the 2015 accord.
Rouhani should stay away next week to "belittle" the U.S. president, wrote Hossein Shariatmadari, editor-in-chief of hardline newspaper Kayhan, who was appointed by Supreme Leader Ayatollah Ali Khamenei. That would be "a deafening answer to Trump's insults."
Conservatives worry the U.S. might engineer an interaction between Trump and Rouhani to drive a wedge between senior leaders in Iran's ruling establishment.
Trump's "being mischievous," said Ahmad Jannati, chairman of the Guardian Council, recalling Khamenei's call for no talks with the U.S. until it returns to the deal. "Officials who are going to the UN must be mindful of this."
Claims by a conservative lawmaker that the trip to New York would cost as much as $2 million at a time of growing economic hardship for ordinary Iranians were rejected by Rouhani's head of protocol, who said it was being planned with "maximum frugality," according to Tasnim news agency.
The U.S. president initially planned to host a Security Council meeting on Sept. 26 focused on Iran. The topic was later broadened to a discussion on non-proliferation of weapons of mass destruction. The agenda change may allow Trump -- whose withdrawal from the accord is unpopular with allies -- to hold his meeting without facing their criticism or inviting Iranian representatives.
Iran wants the remaining parties to the accord, which include Germany, France and Britain, to help protect its economy as U.S. sanctions hit investment. Iran's rial has fallen 60 percent against the dollar on the unregulated market since April, and rising prices led to protests and hoarding of items from diapers to canned food.
Leaders have signaled that if substantial progress isn't made by Nov. 4, when oil sanctions officially resume, Iran might also exit the agreement, freeing itself from restrictions on its nuclear program. That could mark a return to the international confrontation that in the past raised the prospect of military intervention over suspicions that Iran was secretly building a nuclear bomb.
With so much at stake, the General Assembly is a critical "audience and we shouldn't hand that audience on a gold platter to our rival," said former Foreign Ministry spokesman Hamidreza Asefi. "Trump is furthering his political aims by putting on a show, and we should respond by speaking with logic."