Tech Rebound Fuels Stock Gains Amid Trade Tensions: Markets Wrap
(Bloomberg) -- Global equity markets climbed Tuesday, shrugging off the latest salvos in the trade war between the U.S. and China. Treasuries retreated and oil rose.
President Donald Trump announced 10 percent tariffs on $200 billion in Chinese goods to start later this month. The rate would jump to 25 in January if Beijing refuses to offer concessions. China, in return, said it would levy duties on $60 billion of U.S. goods.
Still, the S&P 500 Index registered its biggest gain in almost three weeks, led by technology stocks, which had been hammered in Monday's session. Asia equities recovered from early weakness, with benchmarks in Japan and Shanghai jumping. The Stoxx Europe 600 Index also closed higher.
"The market is properly looking at this as a type of de-escalation of the escalated tensions," said Brian Jacobsen, a multi-asset strategist at Wells Fargo Asset Management. "The 10 percent tariffs are weaker than the 25 percent originally threatened. China retaliated with $60 billion compared to the U.S.'s $200 billion. This could be the start of the tapering of trade tensions."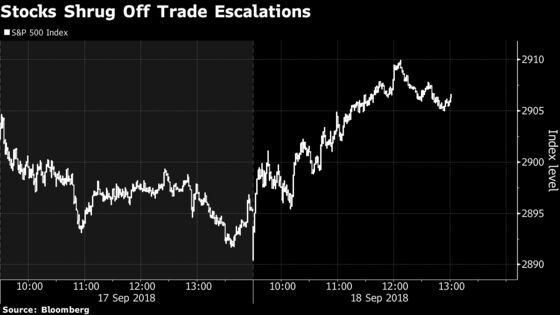 Treasuries declined, pushing the yield on 10-year U.S. bonds above 3 percent, as most European government bonds drifted lower. Italian debt dropped earlier after a report of yet more tension over the country's impending budget, though it later reversed the move after Finance Minister Giovanni Tria spelled out his fiscal balancing act at a Bloomberg event.
Trump had vowed to increase pressure on China if the Asian nation retaliated against U.S. tariffs, which raises the risk of even more escalation between the world's two biggest economies. However the rhetoric has been running for months, and many assets have priced in rising tensions, helping to cushion the latest blows.
Elsewhere, the Australian dollar shrugged off trade concerns to reverse earlier losses as the central bank reaffirmed its next interest-rate move would likely be higher. Turkey's lira fell for a third day. The U.S. dollar fluctuated. Oil jumped after Saudi Arabia expressed comfort with Brent oil prices rising above $80 a barrel. West Texas crude briefly breached $70 a barrel.
Here are some key events coming up this week:
Japanese trade-flow numbers are due on Wednesday.
The Bank of Japan holds its policy meeting on Wednesday.
Britain releases inflation data on Wednesday.
European PMIs are due on Thursday.
The Organization of Petroleum Exporting Countries and its allies meet in Algiers this weekend.
These are the main moves in markets:
The S&P 500 Index climbed 0.5 percent as of 4:01 p.m. New York time.
The Stoxx Europe 600 Index climbed 0.1 percent.
The U.K.'s FTSE 100 Index fell less than 0.05 percent.
The MSCI Emerging Market Index climbed 0.3 percent.
The Bloomberg Dollar Spot Index advanced 0.1 percent.
The euro declined 0.1 percent to $1.1669.
The British pound fell 0.1 percent to $1.3143.
The Japanese yen declined 0.4 percent to 112.33 per dollar, the weakest in two months.
The yield on 10-year Treasuries jumped six basis points to 3.05 percent, the highest in almost four months.
Germany's 10-year yield rose two basis points to 0.48 percent, the highest in almost 14 weeks.
Britain's 10-year yield climbed three basis points to 1.568 percent.
West Texas Intermediate crude climbed 1.3 percent to $69.84 a barrel.
LME copper gained 2.4 percent to $6,086.00 a metric ton.
Gold fell 0.2 percent to $1,198.56 an ounce.