Next Hot Pot Stock May Be Right Under Your Nose: Taking Stock
(Bloomberg) -- Stocks are mostly down to start the week, with the e-minis off about four handles, Europe's Stoxx 600 trading just below the flat-line on a low-volume session, and the Shanghai Composite slipping more than 1.1% to close at its lowest level since 2014.
The culprit remains the lingering jitters over trade, as the world awaits Trump's next move -- WSJ reports that fresh tariffs on $200 billion of Chinese imports are coming soon (following our scoop from Friday), though potentially at a lower rate of ~10% versus the prior announced rate of 25% -- as well as the retaliation from China, including the possibility that talks between the two sides will fizzle out as a result of any new action.
Early movers to stay on top of include Teva (+6.2%) on migraine drug approval, Tesla (-0.7%) after Musk tweets the company has "gone from production hell to delivery logistics hell," Micron (-1.6%) as analysts weigh in ahead of Thursday's earnings, those Chinese ADRs NIO and Qutoutiao (+2% and +13%, respectively) as the post-IPO madness ensues, the H&M ADR HNNMY after shares in Stockholm surged the most in sixteen years (+13%) on better-than-expected sales growth, and keep tabs on the Macau-exposed casinos (think Las Vegas Sands, Wynn, MGM, Melco) on potential impact from Typhoon Mangkhut.
Unearthing New Pot Stocks
The pot space remain all the rage for volatility junkies and day traders with names like Tilray and Canopy Growth soaring 350% and 91% in the past month, respectively. Volumes for these single-stock equities and related ETFs, like the ETFMG Alternative Harvest ETF (MJ), have exploded in the same time frame.
The pure plays are well known at this point, but perhaps some of the secondary and tertiary plays aren't so obvious. Wall Street is already digging a bit deeper to see which companies may have current or future revenues tied to the green stuff, and I'd expect bulls in any of the related stocks to make the public aware of the opportunity and to milk it as long as the sector remains hot.
Take Shopify, a ~$16.5 billion market cap Canadian tech darling whose shares have rallied about nine-fold since its IPO in 2015 (note that's only ~$6.4 billion higher than Tilray's current market value). The stock has also attracted short sellers like Citron Research's Andrew Left, who has been getting crushed on the call ever since publishing an expose in October of last year calling it a "completely illegal get-rich-quick scheme." And he's not the only one, as short interest on the name has steadily climbed over the past six months.
One thing Mr. Left and the rest of the shorts probably aren't excited to see is Keybanc's latest report on Shopify that was published over the weekend, where analyst Monika Garg (one of the biggest bulls out there on Shopify with a price target of $182) outlines the company's cannabis potential as an opportunity that "no one is talking about."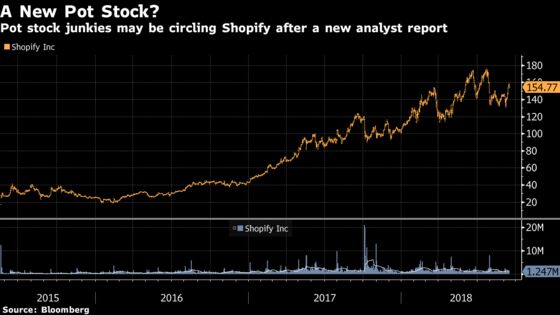 Garg says Shopify has established a leading position as the platform underlying the sale of legalized cannabis in Canada: They've already signed deals to run the e-commerce storefronts for 6 of Canada's 13 provinces (including Ontario, the largest, and British Columbia, the third largest) and have also inked pacts with some of the biggest Canadian independent producers out there, like Canopy Growth and Aurora Cannabis.
Is Shopify a pot stock now? Not necessarily, but it might become one in the near future if more sell-siders start to make the connection and tout the revenue and GMV potential to their clients, like Keybanc has just done. And if that happens while the pot stocks craze is still ongoing, there's a definite chance that a short squeeze could send the shares to an all-time high.
Here's some stuff you might have missed since Friday's close:
Verdad Capital's Dan Rasmussen says that three of the most popular asset classes for high-net-worth investors may have hit their peak (spoiler alert, it's private equity, venture capital, and private real estate); Baupost's Seth Klarman is giving ~$20 million to Democrats after previously being the largest donor to the Republican Party in New England; Horseman Global (dubbed "the world's most bearish hedge fund" by ZeroHedge) has supposedly found the next big short trade in the semiconductors; VC investor Tim Draper reportedly expects the total cryptocurrency market cap to hit $80 trillion in the next 15 years; Salesforce's Marc Benioff is buying Time magazine for $190 million (shades of Bezos buying Washington Post for $250 million); Barron's cover story on the trillion-dollar deficit that no one cares about; New Yorker calls Sarah Huckabee Sanders "Trump's Battering Ram" two weeks after calling Giuliani "Trump's Clown"; this must-read book adaptation in the WSJ about an unassuming Malaysian named Jho Low and the "wildest party Vegas ever saw"; Eliud Kipchoge of Kenya crushed the world marathon record by a minute and 18 seconds; 41-year-old Floyd Mayweather Jr. says he's going to fight 39-year-old Manny Pacquiao again this year ("another 9 figure pay day on the way"); Fireman Ed couldn't help the Jets avoid doing Jets-like things; and the Browns still haven't won since December of 2016.
Notes From the Sell Side
In tech land, MoffettNathanson cuts its price target on Twitter to a Street low $21 on expense build concerns.. Nomura Instinet upgrades Broadcom on positive takeaways from earnings.. Goldman reiterates its buy on Nvidia after management meetings in Japan.. Morgan Stanley slashes its target on JD.com to the lowest on the Street at $25 as it expects earnings per share downside in the second half and in 2019 due to slowing GMV growth.. and Citi says Amazon splitting its AWS and retail businesses makes sense.
Bernstein's Toni Sacconaghi says a key tenet of most bear cases for Tesla is about new electric vehicle competition from incumbent auto manufacturers, but says, "let's make this clear: there is no actual flood of competition coming." Notes that the Model 3, which will account for 70% of the company's revenues within two years, faces "no credible competition whatsoever" until 2020.
Evercore ISI's David Raso, in an email to clients over the weekend, said China construction equipment contacts are now noting a pickup in the last 1-2 weeks in their equipment sales: "Of the two impacts (potential negative trade/tariff vs positive stimulus), it appears the positive of stimulus is materializing first." Separately, Citi reiterated its buy on Caterpillar after positive feedback from contacts primarily in North America.
Goldman double upgrades Brazil's BRF SA (ticker BRFS) to a buy from a sell after the stock has basically done nothing but go down for four years. The analyst cites a trough for many headwinds in the second quarter, management's initiatives helping to restore confidence, and a potential silver lining from the recent truck drivers' strike.
Tick-by-Tick Guide to Today's Actionable Events
Today -- BABA investor day (day one of two)
8:30am -- Empire Manufacturing
12:00pm -- Kudlow speaks at Economic Club of New York
2:30pm -- JNPR hosts "Tech Talk" call on 5G
4:00pm -- ORCL earnings
4:15pm -- FDX earnings
5:00pm -- FDX, ORCL earnings calls
8:00pm -- Emmy Awards
8:15pm -- Seahawks at Bears (-4.5)