Goldman Says Less Is More as European Spinoffs Seen Driving Gain
(Bloomberg) -- European equities can deliver gains and the key to success is corporate simplification, according to Goldman Sachs Group Inc. strategists.
The region's stocks have struggled to match the U.S. rally this year as concerns about trade wars, Italian politics and exposure to emerging-market crises have spooked investors. But, according to Goldman, there's hope for positive -- yet weak -- returns over the next year as European companies go through an "unprecedented" period of portfolio restructuring, with the speed of asset divestments and spinoffs exceeding pre-crisis peaks.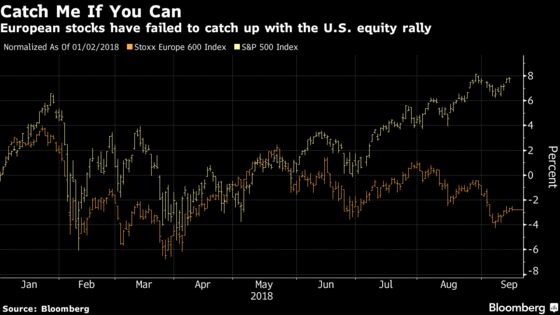 Equity investors are embracing those companies that streamline by selling or spinning off businesses. According to Goldman, parent companies that implement major spinoffs see stock gains of about 7 percent over the next 12 months, while newly created companies on average see double-digit gains.
"Strategists expect European returns to be positive over the next year, despite European equities suffering against a backdrop of political risk and concerns about slower global trade," Goldman strategists led by John Sawtell said in a note dated Sept. 14. "We see significant scope for further portfolio simplification and expect such measures to be a major source of value creation and alpha generation in the years to come."
Goldman's findings also point to the downside of corporate multi-tasking. According to the strategists, companies that operate across multiple product segments usually see lower cash returns on capital invested.