Goldman Sachs Alum's Crypto Fund Expands Even as Markets Tumble
(Bloomberg) -- Cryptocurrency hedge funds refuse to give up on the bruised market as firms continue to open and some of the more established ones expand.
BlockTower Capital, co-founded a year ago by former Goldman Sachs investment manager Matthew Goetz, expanded its staff this year and opened a second office amid the rout in digital assets, according to a person familiar with the firm. The hedge fund, with headquarters in Stamford, Connecticut, last month opened a second office in New York and now employs 13 people, up from around eight at the start of 2018, the person said.
The firm's expansion signals this year's market collapse hasn't been enough to wipe out the bevy of cryptocurrency hedge funds that have popped up since the 2017 boom. The funds are down 52 percent this year, compared with Bitcoin's 54 percent slump, according to the Eurekahedge Crypto-Currency Hedge Fund Index. Still, 96 hedge funds and venture funds have opened in 2018, compared with 156 in all of last year, according to Crypto Fund Research.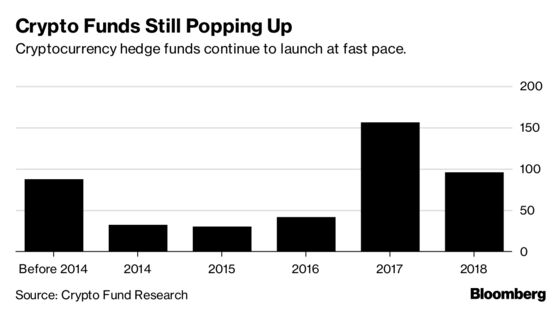 Jessica Schaefer, a spokeswoman for BlockTower Capital, confirmed the office growth and new expansion.
One of the latest hires is Eric Friedman, who joined BlockTower from startup incubator Expa to lead the firm's new venture strategy, the person said. The venture capital fund will likely have the ability to invest in startups' equity and digital tokens, according to the person.
Other additions to the investment team this year include Corey Miller, who joined from venture capital firm Scout Ventures, Siyu Dai, who was a quantitative trader and algorithm developer at firms including Bank of America Merrill Lynch and Nomura, and Steve Lee, a former Tokyo and Singapore-based Goldman Sachs trader.
BlockTower's other co-founder is Ari Paul, who oversaw risk at the University of Chicago's endowment investment office. Bloomberg News previously reported Union Square Ventures LLC and Andreessen Horowitz invested in the firm.