Hedge Funds Trim Leverage in Sign of Caution on U.S. Stocks
(Bloomberg) -- Already stung by a defensive stance on U.S. stocks, the smart money is only getting more cautious.
Hedge funds' net leverage, a measure of the industry's risk appetite, has fallen to the lowest level this year after a brief bounce in late August, client data compiled by Morgan Stanley showed. At 49 percent, the ratio is down from a peak of more than 60 percent in March.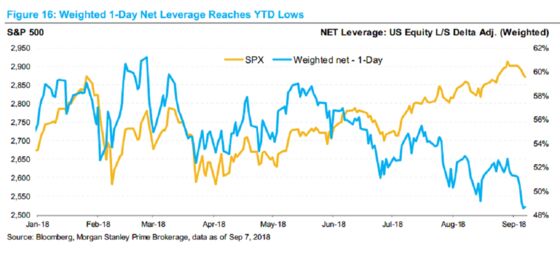 Hedge funds' reluctance to increase equity exposure underscores a growing skepticism about the durability of the S&P 500 Index's outperformance against equity markets in the rest of the world. Wall Street strategists this month have been sounding warnings about U.S. stocks, with Morgan Stanley lowering its recommendation and Goldman Sachs flagging the danger of a potential bear market should a full-blown trade war erupt.
Their lack of conviction in U.S. stocks was one reason hedge fund managers had to watch in pain while the market rallied in July and August. During that stretch, those with a focus on equities saw their underperformance versus the S&P 500 widen by 5 percentage points, according to Hedge Fund Research data compiled by Bloomberg. The lackluster returns prompted Nomura to predict that the industry will have to increase leverage.
The S&P 500 climbed as much as 0.6 percent Thursday and was on track toward a fourth straight day of gains. Up more than 8 percent in 2018, the benchmark is a standout winner as the Stoxx Europe 600 Index is down 3.3 percent, poised for its worst year since 2011, while stocks in developing nations have plunged into a bear market.
Two consecutive quarters of 24 percent earnings growth and the fastest economic expansion in four years have helped U.S. stocks stand firm against global market turmoil.