Bears Claim Hong Kong, IPOs, Reforms: A Week in China's Markets
(Bloomberg) -- Equity bears tighten their grip on Hong Kong, the city's bankers get busy listing new stocks, and China takes more steps to open up access to its capital markets. Here's a roundup of what we've been talking about in China markets this week.
The Hang Seng Index has fallen into a bear market less than eight months after it closed at a record. The emerging-market rout was the last straw, prompting dollar-based traders to rotate out of their positions and back into U.S. assets. Hong Kong stocks are paying a price for being the darlings of global investors last year and they feature prominently on EM benchmarks.
There's a level everyone's watching for the Shanghai Composite Index: 2655.66. Why should we care, you ask? It was the gauge's low in 2016 after the country's stock bubble burst and if it is breached, it could be a pivotal moment in a nation where symbolic milestones matter.
You'd be forgiven for thinking Hong Kong equities are booming if you just looked at the number of companies lining up to list on the city's exchange. Meituan Dianping, expected to start trading Sept. 20, raised about $4.2 billion in what will be the second-largest ever tech debut in Hong Kong. While individual investors weren't particularly keen to have a slice of this one, the food-delivery giant still sold the shares near the top of a marketed range.
China Renaissance Holdings Ltd. (incidentally, Meituan's financial adviser) is also selling shares and has bagged Alipay as a cornerstone investor. Shandong Gold Mining Co., already trading on the mainland, is looking to raise as much as $767 million in Hong Kong. Hotpot chain Haidilao International Holding Ltd. may be more valuable than all other Hong Kong-listed restaurant operators combined.
Read more:
Gold miner launches its Hong Kong offer
The M&A market also got interesting this week. China's Anta Sports Products Ltd. confirmed it's eyeing one of the world's biggest makers of athletic gear, a move that would fit in well with the country's push to expand in sports as Beijing bids to host the Winter Olympics in 2022. On the bad news front, worsening Sino-U.S. trade conditions got in the way of a potential takeover of Yum China Holdings Inc., the nation's biggest fast-food operator.
HNA Group Co. took another step to reducing its debt pile with plans to raise about $1 billion by selling its container-leasing business. Anyone needing a reminder of the financial troubles facing the Chinese conglomerate certainly got it when one of HNA's units failed to make a loan payment this week.
Read more:
While one unit misses a loan payment
China's taking more steps to get non-nationals involved in its capital markets. On the stocks side, most foreigners living in China will be allowed to open local brokerage accounts for trading yuan-denominated A-shares. The timing is awkward given China's equity rout is approaching $3 trillion since January. We interviewed a few expats on the ground and the prevailing mood was thanks, but no thanks.
The reception has been more positive for Chinese bonds. Worth $12 trillion, the market is now about twice as valuable as its equity market. Foreigners are boosting their holdings of onshore debt and authorities want to make sure that continues by announcing a wave of new policies and easing restrictions. While benchmark sovereign yields rose this week on the back of higher than expected inflation, they're still outperforming most other asset classes this year.
Read more:
Bonds drop after inflation numbers
China's entire equity market is worth only about $5.8 trillion now, having already lost its title as the the second-biggest globally to Japan. This chart puts that into context using the world's most valuable company.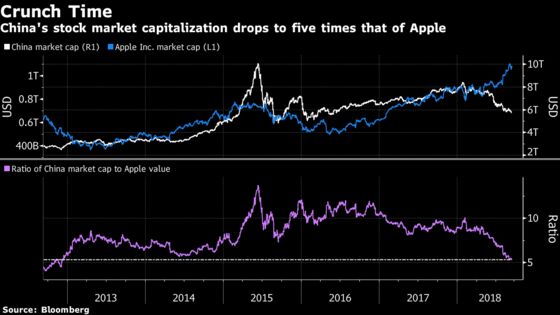 Here's what else caught our eye.
China's richest man is stepping down from Alibaba Group Holding.
A Hong Kong tycoon may want to list some assets in London.
Tencent buys back stock for the first time since 2014.
Investors should fear the buyback though, at least in China.
Traders aren't as keen to buy bearish bets on the yuan anymore.
Warning signs from the property market's peripheral cities.
China's answer to Tesla Inc. started trading in New York.
This carmaker is winning the hearts of equity analysts.
Getting stimulus through to the real economy is difficult.
Apple Inc. may have learned how to sell its phones in China.
Yet another Hong Kong-listed stock is targeted by a short seller.
This stock tumbled after a dead rat was found in a soup.