VIX Options Volume Soars as Someone Bets Big on Volatility Spike
(Bloomberg) -- Someone in the options market is betting that the Cboe Volatility Index, which has been trading below its five-year average, is headed back toward the level it was at during the market turmoil of February.
The VIX fell to 12.37 on Thursday. It's down more than 66 percent from its Feb. 5 peak. One options investor seems to be positioning for a 62 percent surge into November.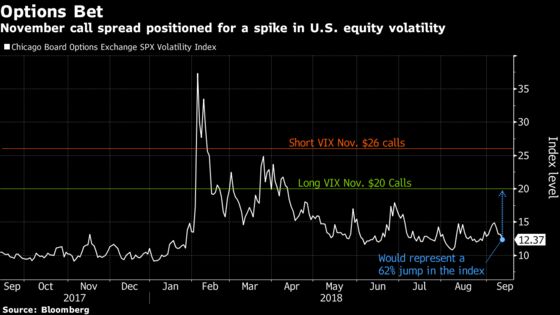 Total VIX options volume spiked to more than double the 20-day average as one investor bought approximately 76,000 November $20 calls while simultaneously selling the same amount of November $26 calls and approximately 95,000 October $13 puts.
While this trade's ultimate goal is to profit off a surge in volatility, it appears it will be profitable even if the VIX doesn't move given the trader collected about 8 cents per contract when it was executed.