Tech Traders Snap Up Hedges as 'Complacency' Engulfs Small Caps
(Bloomberg) -- As Wall Street sounds the alarm over brewing risks in global commerce, traders are rushing to hedge against any downturn in the year's biggest stock-market winners.
Demand for options that provide protection against a selloff in technology companies is at elevated levels as the Nasdaq 100 Index shows signs of flagging following a torrid runup over the summer.
The tech jitters contrast with unabashed wagers that domestically focused American companies will continue to rally as the economy fires on all cylinders.
Contracts that pay off if the Nasdaq 100 falls are in greater demand than similar hedges against losses in both the S&P 500 Index and the Russell 2000 Index. The three-month metric, known as skew, is one point above the five-year average, placing appetite for hedges in the 76th percentile, according to data compiled by Bloomberg.
The Nasdaq 100, known by its ticker NDX, has lost 2.3 percent since its Aug. 29 all-time high. The tech-heavy measure has advanced 17 percent this year, besting the other two U.S. gauges by as much as 9 percentage points -- a reason for caution in the forward-derivatives market.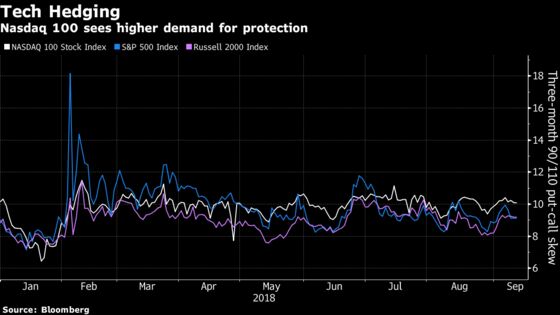 "Essentially, investors are buying the NDX dip but are hedging along the way – which suggests that this NDX rally is 'safer' than some earlier rallies," Michael Purves, global strategist at Weeden & Co., wrote in a note.
The Nasdaq 100 is on track to post its most volatile year since 2006 compared to the S&P 500, judging by the average daily level of the Cboe VIX Index relative to a similar measure on the tech index. On average in 2018, the VXN Index sits 3.8 percentage points higher than the VIX, up from 3 percentage points last year, according to data compiled by Bloomberg.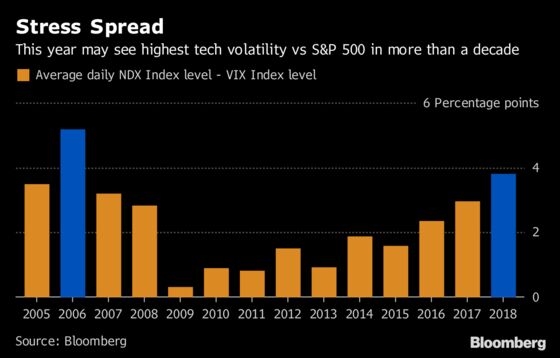 While traders are fretting over the outlook for tech shares, there's far less concern about the strength of companies that get most of their revenue in the U.S. The implied-volatility spread between the Russell 2000 and broader gauges remains at historically low levels -- a clear sign of "complacency," according to Purves.
To hedge a downdraft in soaring small-caps, the strategist recommends that investors snap up put options on the iShares Russell 2000 ETF over SPY and QQQ.
"The small cap 'safe haven' fever will break," he said. "At that point, the Russell 2K volatility will start climbing aggressively on both absolute and relative terms."