The Strong-Dollar Spell Is Breaking for Those With the Most at Stake
(Bloomberg) -- Long before the likes of Jeffrey Gundlach called for the dollar's comedown, big emerging-market funds had started selling.
Take BlueBay Asset Management LLP in London. The $60 billion money manager snapped up currency options back in May to insulate local-currency developing-nation bonds from a sudden rebound in the dollar. In recent weeks, however, the firm has eased up on bullish greenback positions as the currency's strength shows signs of teetering -- even as it stays cautious on emerging markets.
"In our multi-asset funds we have rolled off some of the long dollar hedges," said David Riley, chief investment strategist at BlueBay.
The dollar fell after U.S. inflation unexpectedly cooled in August, poised to post its biggest weekly loss since February.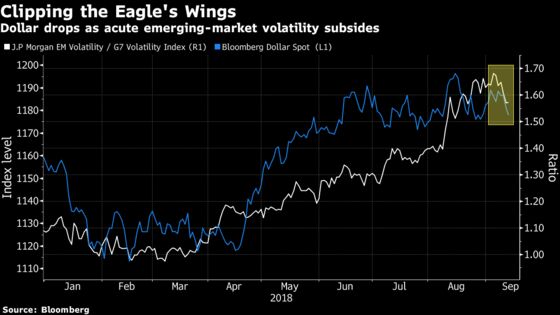 BlueBay joins speculative investors paring the biggest bullish dollar position since January 2017 and flipping back to a net long position on the euro, according to CFTC futures. Meanwhile, Pictet Asset Management has upped exposure to Europe's common currency to neutral from underweight as it predicts a correction for the U.S. currency.
"Big-picture for us, the real direction here is the dollar is likely to weaken,"
Steven Saywell, multi-asset strategist at BNP Paribas SA, said in an interview with Bloomberg TV, referring to the prospect of easing U.S. growth momentum. "We could actually see emerging markets rebound because the fundamentals are actually fairly robust."
Still, the pain may not be over for developing nations. Argentina, Turkey and South Africa are among the most vulnerable economies thanks to their large current account deficits and domestic problems.
"An easing in the dollar will help emerging-market assets," Riley said. "But emerging markets also need to help themselves with higher rates in response to an ongoing tightening in external financing conditions."
Turkey, at least, is heeding the market advice. The nation's policy makers hiked benchmark borrowing costs 625 basis points to 24 percent on Thursday in a bid to lift the struggling lira. The currency at one point jumped more than 5 percent.
BlueBay sold some of its emerging-market investments during the summer sell-off in favor of junior-ranking bonds from European banks, according to Riley.
"We still have meaningful exposure," Riley said. "There is value in EM but also some headwinds from individual country stories, tighter external financing even with some easing in the U.S. dollar and uncertainty over investor flows."