Quant Strategy in Emerging-Market FX Posts Best Run in Six Years
(Bloomberg) -- A quantitative-investing strategy is ringing up heroic returns picking the wreckage in emerging-market assets.
A Nomura index that mimics a trend-following strategy by chasing momentum in 10 EM currencies against the dollar has outperformed the JPMorgan Emerging Market Index by nearly 20 percentage points so far this year.
As active managers struggle for shelter in the developing-economy storm, the investing approach in August bested the gauge by the most since 2012. And it's risen in six of the past seven weeks.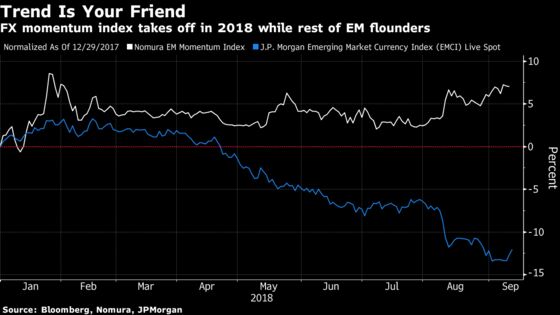 "Trend following in EM FX tends to do a pretty good job getting positioned correctly in front of major crises," Nomura Holdings Inc.'s quantitative strategy team, headed by Anthony Morris, wrote in a note last week.
Put simply, commodity trading advisers or CTAs buy assets with upward momentum and flip to a short position when weakness builds. The approach is a boon for funds with emerging-market exposures, given the length of the sell-off.
EM currencies have extended their rout for 163 calendar days since their April peak, the worst run since the financial crisis. In turn, since the start of August, the Nomura EM momentum index has gained 4.5 percent versus a 6.7 percent loss for the JPMorgan FX gauge.
"There have been currency trends that we believe should have benefited CTAs over the past month and a half in both emerging markets and non-EM," said Antoine Forterre, co-chief executive at Man AHL, the $24.5 billion quantitative management arm of Man Group. "Trend followers have been well placed to capture it."
The quant cohort tend to post uneven returns, as a sudden reversal in fortune can pare months of losses. While they were wrong footed by choppy trends in global stocks earlier this year, the EM sell-off has fed gains.
CTAs returned 2.4 percent compared to a 0.3 percent decline for the average hedge fund from August through Tuesday, according to Hedge Fund Research, thanks to from the downturn in developing-economy assets.
It's a reminder of the strategy's allure as a diversifier, tending to outperform when vanilla portfolios flop.
"The troubles in EM show no sign of abating, with contagion risk increasingly becoming a possibility," Nomura strategists wrote. "At such times, the markets might be bad, but trend following can be good."