NIO's Wild Ride May Blaze Trail for More U.S. IPOs From China
(Bloomberg) -- The party isn't over for Chinese companies seeking U.S. listings and NIO Inc., which almost doubled after two full days as a public company, might deserve credit for keeping the trade alive.
After an underwhelming first day of trading Wednesday, the surge in the Shanghai-based electric car maker suggests investors may continue to swarm around U.S. listings by Chinese companies, said Rett Wallace, chief executive officer at Triton Research Inc. The stock soared as much as 92 percent to $12.69, two days after the IPO priced near the bottom of its range at $6.26.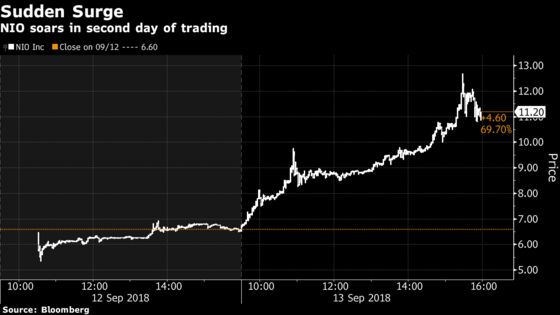 China technology firms have been flooding U.S. exchanges with initial public offerings this year, including NIO and 111 Inc., which saw a more modest 1.5 percent gain in its first day of trading Thursday. Yet other deals have fallen behind schedule in a potential red flag that investor interest might be waning. Weidai Ltd. and CooTek Carman Inc. were the first IPOs from this group to see delays. Based on the timing of their initial registrations, both companies are running about two weeks late and have still not begun their roadshows.
"It's pretty unusual to see companies go out in the open like they have and not launch roadshows on-time," said Wallace, whose firm specializes in technology listings. "There's evidence that things are really cooling, because you don't see deals not go on the road when they're supposed to. But we see some things that are on track."
NIO's billion-dollar IPO and rally Thursday despite an apparent lack of news could spark some companies to pick up the pace, Wallace said. X Financial set its terms on Wednesday in another positive signal for cross-border IPOs from China.
Some companies may be waiting for others to test the waters before launching their own roadshows, Wallace said. CooTek has parallels to Qutoutiao Inc., whose U.S. IPO is expected to price late Thursday, while Weidai is somewhat similar to X Financial, Wallace said. CooTek and Weidai could not be reached for comment.
On a proprietary scale that includes the company's business model, management quality and operational transparency, Triton scores Weidai a 6.05 and CooTek a 5.87, both below the firm's five-year average score of 6.25. But Weidai's score is about average for this year's deals, Wallace said.