Malaysia Charges Ex-Premier Najib's Lawyer in 1MDB Case
(Bloomberg) -- The lawyer representing Malaysia's former Prime Minister Najib Razak was charged in relation to 1MDB, which lies at the center of worldwide investigations stretching from Singapore to New York.
Muhammad Shafee Abdullah pleaded not guilty to two counts of money laundering charges linked to his receipt of 9.5 million ringgit ($2.3 million) of funds from Najib, as well as two allegations of false income tax declaration related to the sum. The charges are part of the 1MDB investigation, the prosecutor Gopal Sri Ram said.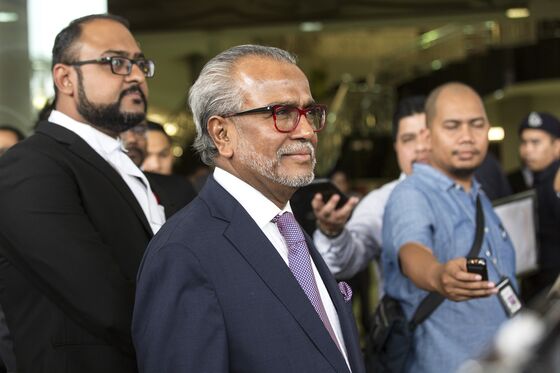 The allegations leveled against his advocate would be another blow to Najib, who himself faces multiple counts of corruption, abuse of power and money laundering charges linked to the fund, whose full name is 1Malaysia Development Bhd. Shafee has been a long-time lawyer for opposition coalition Barisan Nasional, which ruled the country for more than 60 years before being toppled by the current government in May.
Shafee allegedly received 4.3 million ringgit through a check from Najib on Sept. 13, 2013, and another sum worth 5.2 million ringgit on Feb. 17, 2014. That spans the period when Shafee acted as a prosecutor in the appeal to acquit Anwar Ibrahim, who was jailed for a sodomy conviction after he lost in an election against Najib. Anwar is now a leader of the ruling People's Justice Party, and he's expected to succeed Prime Minister Mahathir Mohamad.
The money laundering charges carry punishments of up to five years in jail or as much as 5 million ringgit fine, or both. If convicted for the allegations of false income tax declaration, Shafee would face up to 15 years imprisonment and would be liable to at least five times the relevant proceeds from unlawful activity.
Shafee's bail was set at 1 million ringgit, with his case management date set for Oct. 2, when the court will decide on his trial. The trial date for Najib, who has consistently denied any wrongdoing, is set to begin in February next year.
Malaysia has completed more than half of its revived investigation into the fund with almost all local evidence compiled, Azam Baki, deputy chief commissioner at the Malaysian Anti-Corruption Commission, said in August. Now the anti-graft agency is collecting information from overseas with cooperation from the foreign authorities, including the U.S. and Singapore.
Mahathir has set a goal of recouping $4.5 billion of funds potentially lost through the troubled state investment fund. To that end, his administration has quickened the process to sell a $250 million yacht and sought the return of a $35 million jet parked in Singapore.
The neighboring city-state has ordered the transfer of S$15.3 million ($11 million) of funds in various currencies to a special 1MDB recovery bank account, a fraction of the S$240 million that its police have seized from bank accounts and properties linked to 1MDB.