Hooked on Dollars, Argentines Smash Record for Greenback Buying
(Bloomberg) -- Argentines often say they are obsessed with dollars as decades of boom and busts erode confidence in their own currency. That addiction is only getting bigger this year after the peso lost half of its value.
Argentines bought dollars at the fastest pace in at least 15 years between January and July, according to central bank data going back that far. There was $20 billion purchased in net foreign assets by the non-financial private sector -- a central bank term that consists of dollar bills bought by Argentines and dollars transferred to accounts outside the country.
That's roughly double the $10.1 billion from the first seven months of 2017, and it's more than the total for 2015 and 2016 -- combined.
Global volatility, policy mistakes and vague communication from government officials have contributed to the peso collapse this year. However, the surge in demand for dollars is also adding to the selling pressure on the local currency, economists said.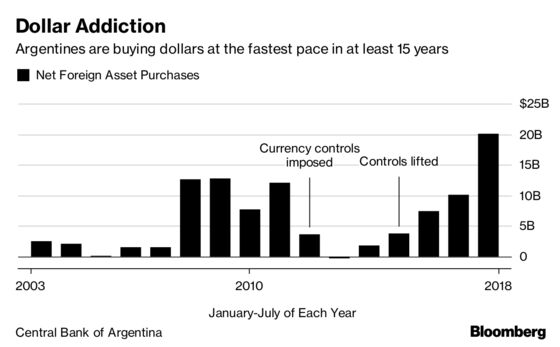 "We buy dollars like crazy," says Marcos Buscaglia, senior partner at investment firm Alberdi Partners in Buenos Aires and former chief Latin America economist at Bank of America Merrill Lynch. "That makes the country very unstable."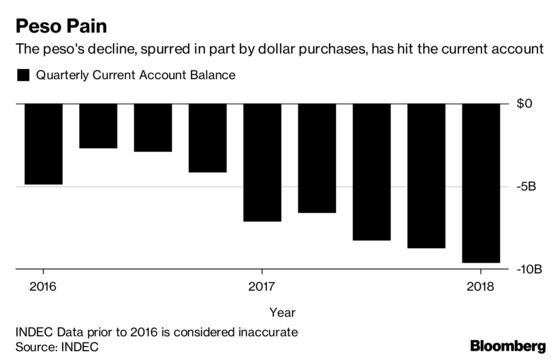 Buscaglia says the surge in dollar purchases this year reflects concerns that the economy could implode like it did in 2001, when the government froze all bank accounts. He cautions that such fears are overblown, but nonetheless persist.
The rise in dollar purchases "is very weird and makes things very unstable of course because people here see risk and they remember we had deposit confiscations and big devaluations -- they don't want to go through that. They buy dollars," he added.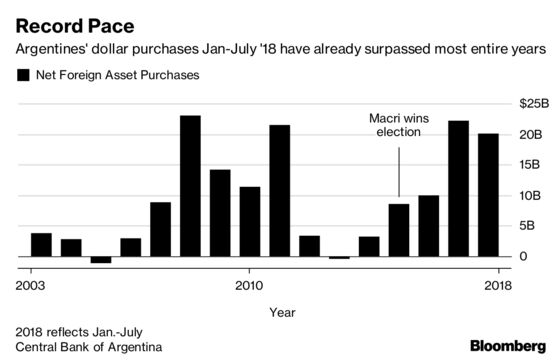 Former President Cristina Fernandez de Kirchner imposed a $2,000 a month limit on the amount of dollars citizens could buy between 2012 and 2015, and imposed taxes on credit card purchases abroad, intended to prevent Argentines from using dollars. Current President Mauricio Macri lifted such restrictions.