Dartmouth's Endowment Gains 12.2%, Value Hits a Record
(Bloomberg) -- Dartmouth College's endowment reported a 12.2 percent gain, making it the first Ivy League school to release investment results for fiscal 2018.
The fund's value was a record $5.5 billion at the end of June, the New Hampshire-based school said Thursday in a statement. Dartmouth's performance was boosted by strong returns in U.S. equities, venture capital and private equity, Alice Ruth, the school's chief investment officer, said in the statement.
"Dartmouth's endowment is fortunate to partner with a roster of top-tier investment managers who add tremendous value," said Ruth, who was hired in March 2017. The statement didn't name specific investments, firms or asset allocation breakdowns.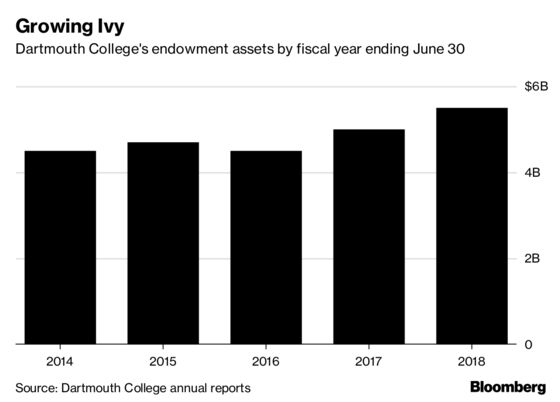 The Dartmouth fund surpassed the median annual return of 7.4 percent, gross of fees, for U.S. endowments in the period, according to data compiled by the Wilshire Trust Universe Comparison Service. Colleges usually report their numbers net of fees.
Most college funds end their fiscal year in June and report results in the fall.
Dartmouth notched an annualized gain of 10.6 percent over five years, 7.6 percent over 10 years and 9.8 percent over 20 years.